Heavy Metal Memorabilia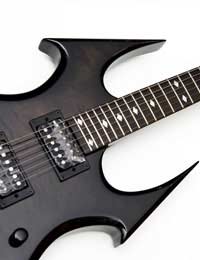 One genre that's never gone out of style is heavy metal (and its very close cousin hard rock). If anything, the 1980s was its high point, from bands like AC/DC, Aerosmith, Black Sabbath and Ozzy Osbourne to the New Wave of British Heavy Metal to the glam metal that came from Los Angeles at the end of the decade (Guns'N'Roses, Poison).
Fans are avid, and often wear their vintage concert tee shirts like badges of honour. What's interesting, however, is that the biggest trade in memorabilia tends to be on the low and mid-priced items; indeed, few high-priced goods make it to the market (instruments are extremely rare, for instance, with the few appearing given to charity auctions).
What to Buy
The biggest trade is in autographs, especially autographed LPs. An AC/DC album signed by all the members will cost you the best part of £200, with the same for Van Halen or Aerosmith, whilst signed pictures of Guns'N'Roses or Metallica will set you back about half that.
Concert programmes can cost you up to about £60, with higher prices for those from the early 1980s. There's also a strong trade in backstage passes for the metal bands, and even items like plectrums sell pretty well. However, in both cases you're only going to be looking at £10-20 for an item, all quite easily affordable.
One dealer offers guitars signed by band members (available for both Van Halen and Aerosmith), for £1,500. Whilst these might be highly desirable items for collectors, they're of little account for investors, as they're not instruments played by the band – they're really just autographs on a fairly spectacular canvas.
In general, posters aren't worth much. The exceptions occur for those rare items, like one for a Metallica show, long before they were stars, and even that was only £65 from a dealer.
Old concert shirts, too, are popular (in fact, their popularity might even eclipse all the other items!). In general, these aren't handled by dealers, but you'll find them, often well-worn, on eBay. Just be sure you're buying real vintage shirts, not modern reproductions. Again, the prices aren't especially high, up to around £20, and usually less.
Why Are Prices Low?
Compared to the memorabilia from other musical styles, prices on metal items seem quite depressed. This might be, in part, because the genre isn't widely appreciated by critics – it's certainly not for a lack of icons within the style itself. Also, most of the bands, even the biggest ones, are still recording and touring regularly, which generally keeps prices down – demand tends to rise when a group no longer exists.
The other factor is the audience. As metal has yet to find favour among investors (and, if it ever happens, that's a long way off), it's driven by collectors, and the items they desire. However, that's no bad thing. In many ways it's a more honest reflection of prices and demand than a real investor market.
Does this mean that it's worthwhile for investors? Probably not. There's going to be little profit until items are being sold in larger auctions, and that won't happen anytime soon.
If you're looking for metal memorabilia, check the dealers, and then look on eBay. In most cases, eBay will probably be your best source, as prices will be lower, and you will almost certainly find a wider range of items.
You might also like...
I have a 'Six of the Best' programme of the Genesis concert (last time Peter Gabriel played with them) at the Milton Keynes Concert Bowl.Saturday 2nd October 1982. Could you tell me the value of such as item please.Thank you
TazzaB
- 14-May-20 @ 4:09 PM