Soul and Funk Memorabilia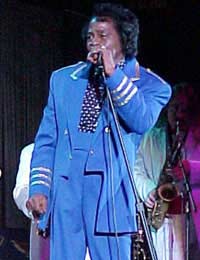 Soul and funk are among America's gifts to music in the rock era. Both have their roots in gospel and funk became an outgrowth of soul in the late 1960s and early 1970s, finding full flower in the 1980s. The styles produced some of the greatest artists of the period – Ray Charles, James Brown, Otis Redding, Al Green, Parliament/Funkadelic, and many others.
However, what interests collectors most is the music. They'll pay large amounts for "rare grooves," those unusual singles that are difficult to obtain. But, for most, that's the extent of the items they wish to collect. Memorabilia has no fascination for them.
In fact, there are very few artists within the genre whose memorabilia is really collectable. For many years, in fact, there was only one – Otis Redding, who died in the 1960s at a terribly young age, his talent still unfulfilled. A 2006 auction saw one concert poster sell for a little over £100, an autograph for £500, and – here's the surprising thing – a concert for a Boston concert, an item that hadn't been seen on the market before, brought over £8,500, a huge sum for a poster, and especially one involving soul.
James Brown
Until his death in 2006, James Brown was the Godfather of Soul, the man who influenced everyone, with a string of classic singles and albums, and whose music has been sampled endlessly as one of the main foundations of hip-hop.
During his lifetime, as with other soul and funk figures, there was little demand for Brown memorabilia. Since his passing there's been a small flood of items on eBay. Autographed pictures are quite common (two sellers are even offering autographed guitars, an odd choice, since Brown was a singer, not a guitarist, especially as the prices range from £500-900), but relatively cheap, generally no more than a tenner. There are James Brown dolls (one paired with a Ray Charles doll) that sing one of his hits, and might prove to be a reasonable investment, if in the original packaging (you can probably pick one up for £10-15).
Read the descriptions of posters very carefully – most of the older ones are actually reproductions, and so without worth to any investor or serious collector. One genuine vintage item had a £2,000 price tag – although it had received no bids.
Older concert programmes are available, but perhaps the most interesting items are the programmes for his funeral and memorial services, both the public one at the Apollo Theatre in New York and the private service – sometimes with accompanying photos of Brown in his casket. Those might seem a little gruesome, but at around £10, they can be a bit of a bargain that might well increase in price in the future.
Ray Charles
You'll find much less for Brother Ray. There's the animatronic doll, some vintage photos, and the occasional old poster (one went for £40), but some unused 1960s tickets had no bids even at £5.
Why Are the Prices Low?
That's a good question. It could be that soul and funk artists aren't held in the same regard as rock artists, and so prices remain low. However, that's not a complete answer – one would have expected a demand for Ray Charles items, as he's a musical icon.
The more likely solution is that the market hasn't yet moved beyond rock. That it will is almost certain, although it might take a few years. That means investing in good Charles and Brown items could prove to have a strong payoff in the future.
You might also like...