Is Collecting 78s Worthwhile?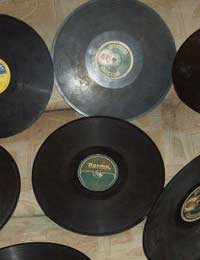 Before the advent of the 45 rpm record and the long player (33 1/3 rpm) there were 78 rpm records. They were brittle, made of shellac, and broke very easily. But for several decades the 78 was the only format available for recorded music.
Early musical recordings, be it jazz, blues, country, and even the pop styles of the time, was recorded on 78. Although much of the material has now been digitally remastered, taking out all the clicks and crackles to make the audio much clearer, and issued on CD, there are still people who want the songs in their original form.
Finding Availability
There are really only two sources to buy 78 rpm records these days. The main one is other collectors, which can be costly, and the other is junk shops, although those stocks will probably have been picked over. The day of the 78 ended so long ago that any which people might have owned have probably been thrown out or sold.
That's not to say it's impossible to make lucky finds, but they're very few and far between. There was an instance in Texas where dozens of boxes of discs were rescued at the last minute from being used for skeet shooting. None of the discs were especially rare, but they were all in excellent condition, a real treasure trove. Not far from the Okeh record plant in America's Midwest, one collector managed to find a blues record from the 1930s with an unknown matrix number (the code stamped onto the record). This happened after 2000, well past the time when all the great rarities had supposedly been discovered, and the record itself was valued at $30,000 (£18,754), a tremendous sum and a joy for any serious collector.
The Problems
The number of 78 discs available declines every year. That's inevitable; no matter how they're kept, some will break or shatter. Most will be in collections, and no matter how they're kept, breakages will occur.
Most 78s were made to be played on wind-up gramophones, where the needles were large and didn't last long. The records were seen as disposable products, intended to have a very limited shelf life. The sound quality, although state of the art for the time, wasn't good, and the discs scratched easily. These days finding a 78 in excellent condition is virtually impossible, and no serious collector would play it anyway.
The Joy Of Collecting
People collect 78s more for the artefact than the music. The music can be found in a much cleaner format on CD, where it can be enjoyed properly. These records are a piece of early 20th century history, and that's part of the joy of them, owning labels that have long since gone out of business.
Most collectors will specialise in a particular style, or sometimes as narrowly as a specific artist. As a general rule, those who collect 78s will veer towards blues (race music, as it was known back then) or country music (hillbilly music). Some will look to jazz. Those tend to be the three main areas and the ones where collectors are willing to pay very good money for 78s.
Make no mistake, assembling a good collection of 78s these days will be costly. The rarity of the items means that prices keep going up, especially on popular artists such as Robert Johnson, the Carter Family or Louis Armstrong. There's nothing to be done about this, and where a record is extremely rare (that is, only a few copies are known to exist), auction prices will climb into the thousands. Collecting 78s has become the pastime of those with money to spare. They can make a good investment, although that will only be realised over the long term.
It's important to look after the discs properly, storing them safely in sleeves, in an upright position, and with the temperature controlled to avoid any chance of warping. Where possible the records should be locked away and they should certainly never be played.
There's real historical pleasure in collecting 78s, even if that collection is small and minor. It's a way to touch the past and connect with lives that have long gone.
You might also like...