Early Rock 'n' Roll Memorabilia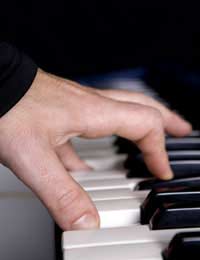 Elvis was the biggest name of early rock'n'roll but he was hardly the only figure of the time. Jerry Lee Lewis, Gene Vincent, Little Richard, Eddie Cochran and Buddy Holly were among others who also figured strongly in the era, whilst in Britain names like Lonnie Donegan, Cliff Richard and Adam Faith were among those who became stars.
It was an exciting time for music, the first unleashing of teenage culture, the first music made specifically for the young. For the first time, the younger generation had a voice, and it made big stars out of the musicians. Those stars have lingered, and their memorabilia has become collectable.
Whose Memorabilia Should You Buy?
The short answer is anyone's; it won't go down in value. But some are more desirable than others. Buddy Holly, for example, died tragically young in a 1959 air accident, before he had a chance to fulfil his potential. In a way, that simply adds to his lustre, and makes Holly memorabilia even more valuable. Because he had such a short life, there's not a great deal around, so what does exist commands high prices when it comes up for sale. His first driving licence, for instance, brought £3,300 at auction in 1999; although his Omega watch, which was inscribed, went unsold (it was valued at over £30,000). A pair of his distinctive, black framed glasses was valued at £40,000 when donated to a museum in Lubbock, Texas museum.
Jerry Lee Lewis has his own memorabilia collection at his ranch in Nesbit, Mississippi, although items do come up periodically. Gene Vincent and Cochran are perhaps the easiest for British collectors, since they toured here (indeed, Cochran lost his life in a British car crash), and it's possible to find programme. Even material from the very bland Pat Boone comes up, such as an autographed Christmas LP for £15. However, in relative terms they're small fry, and the memorabilia doesn't command the prices of the really big names.
There's not a great deal available from Little Richard's early career, but concert posters and art prints from the 1960s and 1970s can run anywhere from £75 to £750; even a 1970 concert ticket can bring £10 (conversely, a recent autograph was on offer for £3.50 with no bidders on Yahoo auctions).
Early British rock memorabilia can be quite hard to come by, for the simple fact that very little was kept at the time. You can find autographs, but not much else – as an indication, an Adam Faith passport on offer was going for almost £500.
What Should You Collect?
The first thing to do is make sure any item you're considering is authentic. There's a strong trade in fakes, especially with those stars who are now dead. Beware, too, of copies of originals – one site offers a copy Little Richard autographed picture for around £3.
Provenance can often be an issue. A passport or driving licence is likely to be genuine, but other items might not be. Insist on proof before you part with a few hundred or few thousand pounds.
In terms of items, obviously, the rarer it is the better. But with many of these stars, the pool of items is finite – short of a surprising discovery, there won't be any more. That means good, authenticated items will increase in value. If you're a collector, of course, everything is grist to the mill, but for investment, you want to spend more on the less common items (relatively common meaning autographs and posters), whose value is likely to increase more rapidly.
You might also like...