1960s Instruments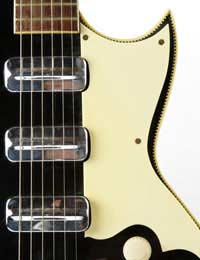 Rock exploded in the 1960s in the wake of the global success of the Beatles. Instead of solo singers, groups became the important thing, and a generation of youths were inspired to start playing instruments and form bands.
A lot of musicians from the period kept their guitars, and those come up for sale. Of course, some are more valuable than others (Eric Clapton guitars are quite literally worth a fortune), depending on the iconic status of the musician. By and large, the desirable instruments will come up at auction, but, if you have the money to spare, it's not too difficult to at least find period instruments.
What to Collect
The big question is what you want to collect – or what you want to invest in for later resale. If you want to buy instruments played by Clapton, the Beatles, Hendrix or the Who, expect to pay a lot, although you're certain to turn a profit later. It's better, perhaps, to look at others – even bass players or drummers, or even keyboard players (although storing a Hammond organ isn't recommended for those with limited space!). That said, guitars and basses remain the most collectable instruments, primarily because they were the instruments most associated with rock – and with the late 60s came the age of the guitar hero.
Hank Marvin was one of the most influential guitarists of the early 1960s, known for the distinctive Burns guitars that he played. If you can find one (an original one, not the 2004 reissue), it will go up in value, not only for its celebrity value, but also as a vintage guitar. Expect to pay several thousand pounds.
What to Pay
Frankly, the sky can be the limit – George Michael paid more than a million pounds for the piano on which John Lennon wrote Imagine, and a Gibson guitar played by both George Harrison and Lennon, before being given to Pete Ham of Badfinger, fetched almost £300,000 in the late 1990s. Half of the drum kit the Who's Keith Moon used at Woodstock went for over £100,000.
It can be a rich man's market, which explains why people like Paul Allen (who made billions at Microsoft) can pay hundreds of thousands for Hendrix guitars (even fragments of guitars Hendrix smashed onstage sell briskly). For most of us, that's unimaginable money, and collecting instruments that have belonged to anyone really credible is going to stretch your savings.
Even instruments from groups like the Small Faces, who were never in the highest echelon, will bring prices in the low thousands. Essentially, instrument collecting – at least instruments directly associated with musicians – is outside the province of the wealthy or very determined.
Vintage Guitars
You might not be able to afford star guitars, but you could look at the types of instruments your hero played – an old Fender Stratocaster, for instance, or a Lennon-style Rickenbacker. Not that these are sold at giveaway prices; a 1960 Strat can run from £1,500 at the low end up to £3-4,000, and a 1960s Rickenbacker 6-string goes for more than £3,000 (you'll pay more still for the 12-string version as used by the Byrds for their jangle sound).
However, by comparison it's a much more affordable field, and for those who'd love to play something similar, most of the styles of the period have been reissued at cheaper prices – even the famous Hofner violin bass that Paul McCartney played. To be fair, it's not the same thing, by any means, as there's no sense of history, but for many of us, it's as close as we can get.
Finally, there are musician-named guitars, such as the Eric Clapton Stratocaster or the Clapton Martin acoustic. These are desirable, but perhaps a relatively affordable way to get closer to the artist. Again, the endorsement by the artist adds to the resale value of the instrument.
You might also like...
i aehglhgjlbzvjblwehfoweh;oiehehauh dijvaslknbjgaebufbau ncjnurngaouhlfuburibuhfuihuhslmfi jciuhuhihfihf uerahfiuerh urhiuehuhfu idsnkdfndgjfngureghewh cu9u 8u8e u8uefhyjshgjdfnvjkgdfrighiru hgg jijg uhgih gurh g rjog her uihuhrugh sj n rhg urhu hreuahihfkhkhhualbl.aboa grhfirng kjnhjkfhkjdhsbuyzgdyfbhvdfjv f vargkjdnbg jkhauigyuegiufbnguhurhgiuhrheiuahgoeijfirhgiorehga;uhlge;rgrzuihrglihuehglhr
abcd
- 18-Feb-21 @ 4:54 AM