The Monkees Memorabilia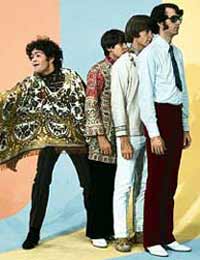 Hey, hey - they were the Monkees, and they were the first of the manufactured groups, a phenomenon that's become far more common in recent decades. Along with them came a great deal of merchandise, not only records, but everything from bubble gum cards to lunch boxes, some of which have become quite collectible over the years.
The History Of The Monkees
A very bright US television producer noted how popular the Beatles had been, both in singles and films, and that they'd moved away from the teen pop market with their music. He saw a niche for a group of good-looking young musicians who could make records and also have their own, zany TV show. The auditions were held and four were chosen – Mike Nesmith, Peter Tork, Micky Dolenz and British singer Davy Jones.
It was even more successful than anyone had hoped. Shown once a week in half-hour episodes, it might have been very deliberately put together, but there was a real element of youthful fun about it. The comedy wasn't as natural as its inspiration A Hard Day's Night, but there was a chemistry between the lads, and the songs came from some of the best songwriters, with much of the music performed by top studio musicians. For a brief while the Monkees were more popular than both the Beatles and the Rolling Stones, no mean feat.
But they grew as people and began making a greater contribution to their own sound. Nesmith, for one, was a very gifted songwriter. Their first two LPs hewed to the pop formula, and then they began to assert their independence, even touring and playing their own instruments in front of screaming crowds as well as being responsible for their own recordings
All this was telescoped into a very short amount of time, from 1966 to 1968 (when the show was cancelled). The band released their fourth album, and would go on to make the psychedelic film Head, which included a soundtrack album. A year later Tork left the band, followed by Nesmith in 1970 (prior to this he'd released his first solo disc, Wichita Train Whistle Sings on the Dot label, now very rare). He'd go on to become one of the fathers of the alt-country movement and also music video.
Since then, Tork, Jones and Dolenz have reunited several times to tour. Nesmith has refused to join them, with exception of two British concerts in 1997.
Monkees Merchandise
The Monkees were intended to be a money-making machine, and that meant all manner of merchandise went on sale, with more arriving as their popularity grew. These days Monkees items can go – albeit in sizeable lots – for a reasonable amount at auction (one included an original board game, hat, bracelet and necklace, among other items). If you have a toy Monkees guitar in excellent shape, it's worth some money these days. So, too, is the tour merchandise (and they might have been the first to have such a thing).
Original merchandise of all types, including sheet music, will sell quickly as long as it's in very good or mint condition. What collectors really want, however, is the rare stuff. These will include gold and silver discs, which can still be found at auction, stills from the Head movie, along with posters (it was released in cinemas) and the original soundtrack album.
Monkees-related memorabilia is worth collecting, too, such as items relating to the show Circus Boy, which was a Dolenz TV vehicle well before the Monkees, or early Nesmith solo vinyl release, including anything that came out on his Countryside label.
Future Values
History has been kind to the Monkees. People still like them, their music and the television shows. Without that they'd be one of the footnotes of musical history. But it means that the fans keep on coming, and are willing to pay increasing amounts for the rare items. They'll never reach truly high values – Monkees collectors aren't that fanatical – but they will bring a modest return on investment over the years if items are chosen wisely.
You might also like...