Bob Dylan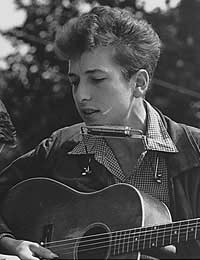 Apart from the Beatles no rock musician has been written about and analysed more than Bob Dylan. His lyrics have been pondered over, the subject of books and academic papers – he's even had people going through his bins on a regular basis to try and figure him out!
The Dylanologists
Well over 40 years since he began, the fascination with the man born Robert Zimmerman in Minnesota just won't stop. Curiously, although some Dylan memorabilia goes for incredibly high prices – some early handwritten poems from when he was a student brought almost £40,000 at auction, the highest price recorded to that point for any Dylan manuscript – people are more interested in the man's work rather than the trappings.
As another example of the prices Dylan can command, a 1959 recording of him singing – the first known recording on tape – was going up for auction with a reserve price of £10,000, and was expected to reach £50,000. It would give the Dylanologists (as they're known) more clues in their search to understand the man.
It's a true sign of his stature as an American icon that an exhibition of Dylan memorabilia has been assembled and taken around a number of cities in the U.S.
What To Collect
There's plenty of Dylan memorabilia you can buy at surprisingly reasonable prices. Some dealers offer backstage passes at anywhere from £10-25, although others do charge much more. Even autographed material isn't that dear – for less than £200 you can get a signed Dylan LP or microphone, and another hundred can buy you a signed Dylan LP. Interesting, though, a legal document with his signature (and that of his then wife), went for almost £750, adding to the idea that the Dylanologists with money to spend want more than the basics.
Early posters and programmes – which means up to about 1963 or 1964 – do very well at auction. One for a 1961 Carnegie Hall concert netted £600, by way of example.
In December 2006, Suzie Rotollo, Dylan's girlfriend who was pictured with him on the cover of The Freewheelin' Bob Dylan, auctioned off some of her Dylan memorabilia through Christie's. A demonstration copy of that LP, amended and altered by Dylan, brought over £11,000, and was among other items, such as flyers for Dylan's early appearances in New York City folk clubs.
There is a middle range, too – items like an elaborately framed, handwritten set list that sold for £1750 at auction in 2006, part of an old Dylan will (again framed) for around £750, or even the capo he used on his guitar at the Isle of Wight festival in 1969 for a mere £1500. These are the types of items that will appreciate in value over the years, and, if you want to collect Dylan memorabilia as an investment, the best range to aim for.
Wanted!
There is, however, one piece of Dylan memorabilia that no one has yet found, and if someone owns a copy of it, they can almost ask their own price. At 21, Dylan came over to Britain and appeared in a television play, Madhouse on Castle Street. The BBC didn't keep a copy, but the search continues for someone who might have been able to record it (the first, ridiculously unwieldy and expensive video recorders had just arrived at the time).
You might also like...