1960s Magazines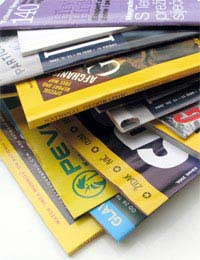 The music press rose properly during the 1960s as popular music grew in popularity especially after 1967, when music began to be taken more seriously. In Britain, music papers had already existed for a few decades, but they turned to more popular coverage. Some, like Merseybeat, were quite specialised.
Old copies of these magazines have survived and you can find them for sale. Whilst they don't really represent a good investment, since their value is unlikely to increase enough to make you good money, they can be excellent for a collector wanting more information on a group interviewed in a specific issue, or for a music historian. They're a tantalising piece of music memorabilia.
What's Available?
In Britain, look for old copies of Melody Maker or New Musical Express (NME). These were the weekly music papers, tabloid size, which gave the most coverage to pop and rock music, with more serious interviews and reviews.
Merseybeat began at the beginning of the decade, and just covered the music made in the greater Liverpool area. Although it claimed a quarter of a million readers for its issues, the print run was far less. It's a much rarer find than the big music papers.
Fabulous 208 was a magazine associated with Radio Luxembourg, which represented one of the alternatives to the bleak pop coverage on the BBC. It was very much about the pop acts on the charts, the first of the teeny bop magazines, in effect.
Perhaps surprisingly, America was less well served, although the sheer size of the country might have been a reason. Although there was a pair of industry publications, Cashbox and Billboard, there was little for the consumer until the arrival of Rolling Stone in 1967. These days it seems quite conservative, but originally it dealt with serious, fringe music.
What Should You Pay?
Shopping for old music papers can bring some very pleasant surprises. With Melody Makers and NMEs from the 1960s, you can usually pick up a copy for less than a fiver – sometimes quite a bit less. By virtue of its rarity, copies of Mersey Beat don't come on the market as often, but the price tends to be around the same. Copies of Fabulous 208 can sometimes go up to £10, but that's rare (one character trying to sell an issue on eBay for £25 was probably indulging in wishful thinking). Of course, you should make sure they're in good condition, as far as possible.
1960s issues of Rolling Stone (the British version arrived later) tend to be more valuable, with £10 the lower end of a curve that can rise to £50, sometimes even higher if the issue was Beatles-related. Even so, they remain a particularly affordable part of music memorabilia.
Where To Buy Them?
The main market for music magazines is eBay. The demand isn't huge, so you're unlikely to be involved in a bidding war most of the time.
It's also worth trying car boot sales, where occasional copies – or a bundle of copies – might turn up at very low prices.
Music Books
The rise of pop music also brought a rash of music books, quickie biographies of the big stars, as well as "annuals" such as Boyfriend. These, too, are very cheap, and might be the best investment in terms of printed word. With so many titles it's almost impossible to pick out one, but The Beatles, by Hunter Davies, a first edition from 1968, can still be found cheaply. It's a seminal work on the group, and worth the cost, which is still low.
For sheer value and readability, you can't beat 1960s books on music (although the music papers come close). Really, that's the best reason to buy them, although over time their value will likely increase, especially those related to the Beatles.
You might also like...
You can try asking beatchapter. They buy and sell all sorts of music magazines including nme melody maker disc sounds etc. But they do not list them for sale on their website for some reason
Jon Limbret
- 30-May-18 @ 11:04 AM
I have New Musical Express papers dated from October 6th 1961 to December 28th 1962 bound into a hard back book. Also Disc papers dated from October 7th 1961 to December 29th 1962 bound into a hard back book. Is anyone interested ..............Hazel
I have a copy alsoof BLACK MUSIC REVIEW featuring Jimi Hendrix Vol.1No. 1 marc publishing corp. 50 Ann Street W Pittston, Penna. 1969 What is it worth
susiebee
- 2-May-15 @ 10:17 PM
I have a copy of Black Music Review (issue 1, number 1) from the late 60's featuring several articles and an interview with Jimi Hendrix; also articles on many other black musicians e.g. Aretha Franklin, Albert King etc. The magazine was published by Marc Publishing but i cant find any info regarding this magazine on the internet. Can you help? Thanks Mitchell...(Sydney, Australia)
what?
- 14-Feb-13 @ 8:20 AM
Hi Do you please have any New Musical Express papers 1960-70...i need about 100 to collect the whole decade....look forward to reply...thansk..Bob.
humbug2115
- 17-Aug-12 @ 10:09 AM
Hi ...do you have any New musical Express papers from 1060-1969...i need about 100 to get the complete decade...thanks..Bob.
humbug2115
- 26-Mar-12 @ 10:02 AM