1960s Merchandise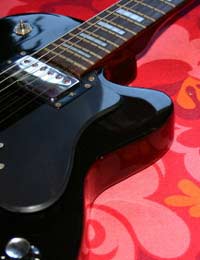 Music merchandise became big business in the 1960s most particularly in the wake of the Beatles. The decade before Elvis had broken the ice with merchandise sales, but now it became a flood.
However, if a businessman wanted to make real money, he needed to move a lot of merchandise, and in the 1960s the name that sold was the Beatles, especially in the period 1963-1966, before the band retired to the studio. Offers rolled into their manager, Brian Epstein, and he took many of them, possibly more than he should.
All that meant you could get everything Beatles, from curtains to toy guitars, lunchboxes to drinks trays, all fully licensed and legal. Much of it was cheaply produced, but it sold in vast quantities- the group were the hottest celebrities in the world at the time.
Since it's the Beatles, there's still a big market for this merchandise (indeed, you'll be hard pressed to find merchandise of many other groups besides the Monkees), and because so much was bought, there's still a fair bit around, with the prices strong enough to make you wish you'd held on to those Beatles bubblegum cards you had when you were young.
Toys
A Paul McCartney bendy doll (curiously, they only made Paul) is £200, whilst liquorice records (a full box) brought almost £900 at auction. If you happen to have a set of bobbing head dolls, you could probably get £350 for them, and even a later item, a plush promotional toy from the Apple label can demand around the same sum. A vintage Beatles bugle (actually just a cone with the Fabs' picture on it) took £450. However, as there are also modern reproductions of a number of toys, especially Yellow Submarine items when the film appeared on DVD, you need to be sure the material is original.
In America, a Beatles cartoon series was popular for a while, and spun off its own merchandise, especially figurines, which sell now for around £150.
Fabrics
It can seem absurd at times, the types of Beatles-related merchandise that can sell. Tea towels, curtains, everything is grist to the mill, and it will all sell. Expect to pay over £100 for anything.
Others
Old Beatles jewellery is always a good bet. That's not just lockets with photos, but also guitar pins and even badges, both of which were very popular that the time – and from today's prices are more desirable than ever. But the real money is in something like a Beatles record player – one sold for more than £1,500. There was even Beatles talcum powder, although at £150 you might wonder if it's still a bargain. The same is true for a plastic ashtray, which fetched a similar price. Someone found an unworn pair of Beatles plimsolls, and sold them for £850. A lunchbox in good condition, with a thermos, can realise £250.
A good set of those once ubiquitous bubblegum cards is worth the best part of £200, or even more, and even something as banal as an iron-on transfer can fetch £60.
Quite frankly, if you can afford to invest in Beatles merchandise, you'd be very well advised to do so. It sells, and the market keeps rising. It could well be worth ransacking your parents' (or grandparents!) loft to see if anything is still around. If you come across something rare, you could be sitting on a lovely little earner.
You might also like...