1970s Discs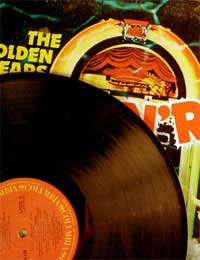 As record sales increased in the 1970s so there were more gold and platinum discs awarded. For collectors, this makes them a little easier to find, although there's still not exactly a glut on the market. What you really want to look for are the American RIAA award discs, which are easily identifiable by the plaques on them.
It was in the 1970s that these award discs underwent a great change, from the white matte style that had begun in the 60s to what was called the "floater" style. This used a black matte, with the small reproduction of the album cover and the RIAA award plaque set upwards, so they appeared to "float." Introduced in 1976, it was first used for the Eagles Hotel California LP.
So, for the first half of the 1970s, you should expect to find awards discs on the older, white matte background. If for some reason they're not, you might do well to be a little suspicious. Conversely, if you come across an award album from the second half of the decade on a white matte, then you know it's a fake. To be fair, fakes don't happen that often (there's simply not enough money in it), but they've been known to exist.
Beware, too, of dealers offering "gold" records. These aren't award discs, simply a gold coloured LP or CD, and with no extra intrinsic value at all.
With that out of the way, you can take a look at what's available to collect. The chances of assembling a collection of award discs by one group or artist are very small indeed – not enough crop up on the market to make it feasible. If you're going to collect, you'll have to look at what's available, and there are never any guarantees as to what will come up.
What to Buy
Artefacts of some artists are more desirable than those of others. For example, a Barbara Streisand gold disc from 1974 only managed £175 at auction, whilst a Procol Harum 1972 gold disc went for £300.
David Bowie, at his peak during the 1970s, will cost you anywhere from $400-750, depending on the item (if you could find an award disc for Ziggy Stardust, that would be the Bowie jackpot). That's a lot more than Elton John, whose award discs can only manage in the £250-300 range – surprisingly low for such an iconic figure.
You'll be hard pressed to find Zeppelin award albums from the period, even though virtually all of their recording was done in the 1970s. However, for fans, there was one for the box set of CDs, coming from the 1990s, and quite a steal at £650.
The ultimate, as in everything else, is an award disc for John Lennon, and those are like the proverbial hen's teeth – if you find one, it's probably worth the auction price. As an example, a 1968 gold disc for a single brought £1,800. Since he earned fewer of them during the 1970s, expect to pay £2,000+ - if you can even find one.
Investments
Do award discs make good investments? They probably do, since there are very limited quantities of them and few on the market at any one time. Although the prices are low, those from the more desirable and collectable acts are virtually certain to rise in value. You won't make a fortune on them, but you should turn a profit over time.
You might also like...
Hi, I have an item which as far as i know , nobody else has got...you prob get that a lot but read on...Back in the late 70's i was a punk, quite big into the Sex PistOls, anyway, they had an office , or at least Malcolm McClaren did in Denmark St, , Soho, (also known as Tin Pan Alley)....Anyway, when they eventually vacated the building, sometime in 1979 , I decided to take a trip up there, i found the deserted office and had a quick walk around..knowing that i shouldn't really be there i didn't hang around long, but i did pick up an un-opened letter from the Gas company addressed to Mr M . R .McClaren, Ground and Basement, 6 Denmark St, WC2, I have had the letter ever since then and last week i put it on a punk memoribilia site, just to show people...I got offered £250 for it...i was amazed...I am thinking of selling it to this chap...but at the same time i'm wondering if this letter could be worth more ? It is a one off, i cannot see there being another one anywhere in the world and never will...as he is dead, i'm sure you know that, !...it may not be the most interesting thing...But unique never the less.....What do you think ? you are the experts...! Punk stuff is collectable....and there's only 1 !!....Thanks for reading my epic story, hope to hear back, soon as ( i am stalling the potential buyer at the mo !)...Kev P.S. It is in good condition for35yrs old, has the original letter (bill), envelope and even the brown envelope they sent with it to return payment...Which Malcolm never did !!
Strummer
- 3-Feb-15 @ 5:12 PM