1970s Autographs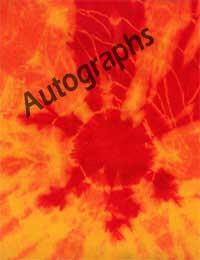 Autographs are always collectable but it's an obvious fact that some are more collectable than others. They're also more desirable in certain forms than in others. Four different pieces of paper with band member signatures simply isn't worth as much as having them all together on one sheet. However, the best way to have the autographs is on an LP cover, which is when you find yourself looking at more money, whether you're buying or selling.
That said, autographs generally fall in the lower end of the memorabilia market, and no bands from the 1970s inspire the same devotion – or expense – as the Beatles. But even then, as solo artists, only John Lennon commands truly high prices for his autograph.
What to Buy
As always with autographs, authenticity is a factor, and it's generally impossible to have pictorial evidence of 1970s autographs. That means you need to be wary, especially if you're bidding on eBay. It'll cost more to buy from reputable dealers, but it's often a better option, since they obtain signatures from good sources and often take pains to verify them.
As to who to buy, your best bets, where you can find them, are the biggest bands of the era – Fleetwood Mac, Eric Clapton, the Bee Gees, Black Sabbath (especially with Ozzy), and Led Zeppelin. Even the autographs of punk bands like the Sex Pistols, the Clash and the Ramones are well worth collecting.
Ideally, go for autographed album covers, like the first Zeppelin LP with signatures of all members for £1,750, a rarity that could prove to be a good investment. You'll pay around the same for a guitar signed by the Eagles, although on other things their autographs would be less – probably in the £1,000-1,200 range.
Those names are at the top of the pyramid. From there things become much cheaper. Even CSNY will only set you back about £250, whilst Billy Joel, Alice Cooper and even Ozzy himself are around half that, as are Meat Loaf and the Bee Gees. At those prices, it could prove wise to do a little collecting, since values on them are likely to increase over the next few years, especially on the Bee Gees.
Lower Priced Autographs
Two names worth searching for are Jim Croce and Harry Chapin, American singer-songwriters from the era who are both now dead. Their demise has increased the value of autographs, prompting one dealer to put prices of signed album covers at £300 each. However, since there's not a large market in memorabilia on either one, whether they're worth the price to anyone but an avid fan is debatable.
Truth to tell, very few 1970s figures inspire the market. Jeff Beck was a guitar god, but his autograph barely skims the £100 mark. Rod Stewart, as popular as ever in album sales, can only manage around £125 for a signed LP.
Quite possibly a direction in which to look is punk, whose value is growing by leaps and bounds. None of the major bands from the punk period still exist, which has given them an iconic status. As an example, a signed Ramones poster will cost you around £200, and that's a good deal in today's market; in all likelihood, about five years from now that price will have doubled. If you can obtain a complete Sex Pistols autograph including the late Sid Vicious, you're looking at quite a bit more money than that.
Investing in autographs won't make you rich, but if you use your judgement wisely, and are willing to hold on to some 1970s autographs for a few years, you might be able to double your money.
You might also like...
murfy - Your Question:
I have part of a programme with all 4 bee gees signature, is it of any value?
---
Our Response:
If the programme has parts missing this will affect its value but it will have some value to any collector of BGees or 70s memorabilia.Have a look around the Internet and see if you can find any valuers. Most of the well known auctioneers have pop memorabilia experts.
MemorabiliaRocks
- 21-Jun-16 @ 2:33 PM
I have part of a programme with all 4 bee gees signature, is it of any value?
murfy
- 21-Jun-16 @ 7:20 AM