James Brown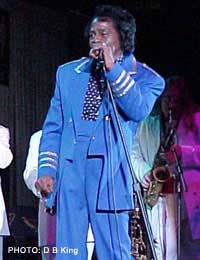 He was the Godfather of Soul, and a star for almost half a century. But even godfathers aren't immortal, and after James Brown died in 2006, it would have been reasonable to assume that there would be a flood of memorabilia on the market.
After all, he was an iconic figure, and over the course of such a long career there must have been many items acquired by people now ready to sell.
Strangely enough, the market remained very quiet. There was no surge of James Brown items - in fact, there was hardly anything, and the prices on those already out there didn't seem to rise. Why?
How Collectable Is James Brown?
Figures like James Brown come along very rarely. Not only was he one of soul and funk's leading exponents, he also became an inspiration to hip-hop artists, who sampled his beats with alarming regularity. Although he appealed mostly to African-American audiences, he developed a sizeable white following.
In theory, at least, he should be very collectable. However, in spite of his status, his appeal outside soul was to those very much involved in music - only a few records touched a broad audience. That, perhaps, is why there's never been a huge market for his memorabilia, even when he was alive.
It's a telling statement that possibly the most expensive item of Brown memorabilia is the last car he owned, a 2005 Chrysler 300 (with bill of sale), and that wasn't being grabbed up at around £25,000 - hardly massive money in terms of memorabilia.
Things weren't helped by a fire in his offices at the beginning of the Millennium that destroyed a lot of his own memorabilia collection, many of the items completely irreplaceable. On top of that, the wrangling over his estate, which could drag on for years, means that many remaining choice items won't be able to be sold for a long time yet.
What's Available
Unfortunately - the car aside - it's a pretty poor selection. There's old vinyl, of course, which has become more collectable as vinyl rather than by artist over the years, and the original James Brown issues from the 1950s are relatively valuable.
Posters are good, but as with every other artist, you need to carefully distinguish between the original printings and the reprints, and there are far more of the latter around these days. The majority of "real" James Brown posters for sale will be post-2000, and those don't fetch a high price - they can be bought for £7.50 - £15, and even good older ones don't fetch that much of a premium.Beware of tee shirts. Most are fakes, not real memorabilia, and not worth much at all.
Essentially, that leaves autographs and clothes. Some James Brown clothing items have come under the hammer, but they've been snapped up by the Hard Rock Café, so it's not easy to offer a real value. At some point there will be an auction of his items, and that will give a true indication of which way the market is going. However, it's fairly safe to say that he won't be in the Beatles class or anywhere close.
Even James Brown autographs don't go for the kind of price that befits his status. A signed guitar pickguard, for instance (an odd choice, since he didn't play guitar) was on sale for a little over £300 (for comparison, the same company had a George Harrison cheque for £2000), and that was a high price for an Brown autograph compared to other vendors (but remember, if you buy an autographed item, always use a reputable dealer and obtain a COA, a certificate of authenticity).
Time should bring more of the Godfather's memorabilia onto the market, and there's a very good chance that prices will rise sharply over the next 10 years, meaning those with a little to invest now could make a good killing in the future.
You might also like...
For sale: autograph james brown for biggest price with his band in prague czech republic in year 2004!
Juansant
- 23-Apr-11 @ 9:14 PM
I have a signed James Brown guitar (with COA). What is the value?