Glam Rock of the 70's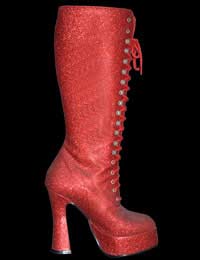 Glam rock was a genre unto itself starting in 1970 with the emergence of T. Rex as a pop group rather than the airy-fairy hippie duo they'd been before. Wearing androgynous clothes, face heavily sprinkled with glitter, Bolan became a new kind of pop star, and soon the style was called glam rock.
It was a very English thing, but brought a host of followers, from David Bowie to Sweet and Slade, and together they ruled the charts for a few years. But Glam as a whole hasn't really enjoyed the buoyancy in the memorabilia markets of other styles, such as punk.
Why is that? Possibly because it was seen as very much a pop music movement, and though several bands sold a lot of records and drew crowds to shows, it was meant to be disposable. Slade might have the perennial Christmas song, but few can remember the names of the band members, and who can name any of Sweet?
However, a few iconic artists did emerge from the period and have done very well, especially David Bowie, whose reinventions have meant that his career has kept going from strength to strength.
Marc Bolan
Bolan died in a road traffic accident in 1977. That secured his legacy, and his fans remain dedicated. Some items, like a rare promotional poster, have gone for high amounts (£770), and autographs can fetch £75.00, if authenticated.
However, outside of press clippings and old vinyl, there hasn't been a lot of Bolan memorabilia. That makes existing items more valuable, but there's not enough demand for prices to keep rising.
Kiss
One of the biggest groups of the period were more Glam by association than anything. Kiss were almost a cartoon, playing heavy rock, dressed in costumes and faces hidden behind heavy makeup. But they had legions of fans in the US, and they've somehow retained their popularity, particularly in the States. That said, it should be noted that most of their fans might like the music, but few have become avid collectors.
There have been reissued memorabilia items, but it's the vintage goods that are worth some money, like a 1978 lunchbox for almost £100. That's not a lot, but values have been increasing slowly (a 1978 Kiss trash can goes for £125).
Kiss were heavily merchandised, so the items are out there, but you need to research heavily before buying. There were plenty of Kiss dolls, for instance, but the set really worth owning are the Destroyer and Love Gun series.
Old backstage passes can go for up to £85, and the same for old proof posters from the 1970s.
You can occasionally find signed instruments, although they're not vintage and original, but the prices are high enough to discourage investors – these are really just for the hardcore fans. Guitar plectrums, on the other hand, from many different tours, are easy to obtain.
Other Groups
Given the popularity of bands like Slade and Sweet, it's surprising that there's not a thriving cottage industry in memorabilia relating to them. What you do find is often old vinyl, or vintage patches to go on coats.
Much of the death of vintage memorabilia is due to the fact that little was produced. They came at a period between the Beatles and Bay City Rollers, and seemed to avoid the teen idol trap, where merchandise formed an important part of the whole. In other words, there's really little to be found, for better or worse.
You might also like...