Festival Memorabilia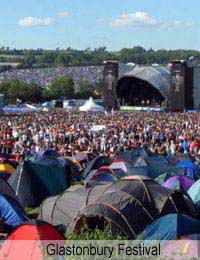 The first rock festivals took place in the US, and quickly spread around the world. Woodstock, in 1969, still stands as a festival icon and milestone. But Britain has had plenty of festivals of its own, notably Glastonbury and the Isle of Wight, and festivals have become a huge business in recent years, with hundreds of them held every summer.
People who go to festivals want mementos of their experience, and there's even a small market for festival memorabilia. At present this hasn't reach investment levels – although there are some exceptions.
Valuable Festival Memorabilia
The really big festivals that have lived on in history, such as Woodstock, the Isle of Wight 1970, or the first Glastonbury festival, have produced memorabilia that's worth money. In some cases, a fair bit of money. An original Woodstock poster in mint condition (which would be extremely rare) can command a price in the hundreds of dollars. Posters for other early festivals are also good investments, although they aren't anywhere near as valuable.
For those early festivals, posters are virtually the only memorabilia. There was no thought of the kind of merchandising that's prevalent today. So there weren't the tee shirts or other souvenirs. They were gatherings that were about the music more than the ways of making a profit. For collectors, that can be frustrating, since it limits the opportunities.
There are reproduction posters of early festivals widely available. These are more for decorative purposes mostly, rather than any investment. Some of the early festivals have largely been ignored, though, such as the 1970 Bath festival, which featured one of the first appearances of Led Zeppelin. There is a website dedicated to the festival, but nothing available in terms of memorabilia.
Modern Festivals
For modern festivals there are posters, tee shirts, water bottles, backpacks, almost everything you can imagine that can be bought and sold. These items aren't just available to those who attend the festival, but to anyone with a credit card who visits the festival website. In other words, the memorabilia has become devalued, as there's so much of it available.
It's an indication of the way the model has changed, from music to business. Events like Glastonbury attract well over 100,000 people every year. That's still a lot smaller than Woodstock, which reportedly had 500,000 attendees, but a sizeable crowd, nonetheless. To stay in business the festival has to make a profit, and that means merchandising is an important part of the bottom line.
All this means that memorabilia from modern festivals has little value in the collector market. Nor is it likely to have for a number of years. If you want to collect festival memorabilia for yourself, especially if you've attended the festivals yourself, these items make great souvenirs.
For those looking for an investment, you need to pick something unusual, a festival that's just starting out. The first year of Coachella or Bonnaroo, for instance would be good, or the first Bestival. In time, items from the start of festivals like these might be worth a little money. But don't expect Woodstock-level values. Those simply won't happen again.
New festivals start up every year. Most will fail, but for memorabilia collectors there can be money in failure, as long as the festival itself goes down in history. But it takes skill, or luck, to pick the right ones. The short answer is not to expect too much of festival memorabilia in the investment market.
You might also like...