Instruments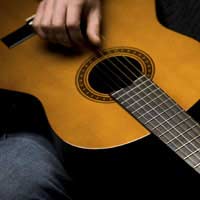 Can you find instruments that belonged to musicians from the 1950s or even earlier? In short, yes, there are a few, but you're going to pay through the nose for them. However, on the plus side, even an acoustic guitar associated with the decade's biggest icon, Elvis Presley, only brought less than £100,000 at auction – peanuts compared to the prices some guitars have brought.
Guitars, especially early guitars, are big collectables in themselves, fetching thousands of pounds. That's due to rarity (there's a finite number of vintage instruments still around), but also the fact that musicians love the sound older guitars make and are willing to pay the often ridiculous prices demanded.
However, back in the 1950s, before there was such a cult of personality, and no one imagined that there'd be a market for rock memorabilia (in fact, few believed rock would even last!). Musicians didn't always keep their instruments, and even when they did, they passed to family members, many of whom just sold or lost them, without any thought to the future. Establishing provenance can prove to be very difficult, if not downright impossible, at this remove. Another important factor is that many of these instruments simply didn't survive. Touring conditions and instrument cases were such that broken instruments were quite common.
Guitar Manufacturers
In terms of electric guitars, Fender and Gibson were the big names – just as they largely have been since. They were the choice of musicians, especially the early rockers, although the Mosrites were played by early surf groups like the Ventures.
Gretsch guitars were beloved by country players, while National resonators and dobros had great popularity with bluesmen and bluegrass pickers.
Then as now, Martin was the major manufacturer of acoustic guitars, but there were also Epiphones, Regals, as well as Washburn, Stellas and Kays (which were sold through Sears) for those who were on a budget – many American musicians began their careers with a Kay. Although Rickenbackers were made (they'd made some of the very first commercial electric guitars), they didn't begin to achieve real popularity among musicians until the 1960s.
Guitar Prices
Rock was born in the 1950s, and given the relative rarity of artefacts; you might expect prices to be sky high. In a curious paradox, though, they're often more affordable than those of more recent decades. A National guitar signed by Elvis was offered for £30,000 – still a hefty chunk of change, but far less than many instruments sold at auction. A Scotty Moore Gibson ES-295 (note, not an instrument played by him) was on eBay for £7,500, actually a reasonable price for something of that vintage, although an instrument he'd actually played sold for far, far more.
Obviously, any instrument associated with Elvis is going to be in demand, but another early rocker, who went on to become a country icon, Johnny Cash, has become very collectable since his death – one guitar made for him sold for over £65,000 in 2004, and those prices have continued to rise ever since, an acknowledgement of his stature.
What this means, of course, is that these instruments are out of reach for the average collector, although more will come on the market as a generation of early rockers dies off. However, the prices will only increase, so, if you can afford it, they can represent a significant investment.
You might also like...