John Lennon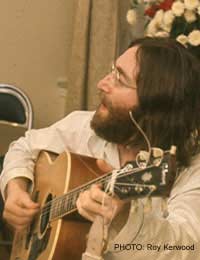 Of all the Beatles, John Lennon was the most revered. He was the most iconoclastic of the four, the rebel, who was not only a great singer and songwriter, but also a talented writer and artist. His assassination in 1980 helped elevate him to the status of legend, and these days Lennon memorabilia goes for frankly ridiculous amounts. Even artefacts of George Harrison, who also died too young, isn't in the Lennon league.
No matter what the item, however small it might be, the only place you'll be able to buy Lennon memorabilia is at auction. The association can be quite spurious – dove ornaments that he used to decorate a friend's Christmas tree, for instance – but it will sell (in this case, with a letter of authenticity, for £1,200).
The big ticket items are exactly that – out of the reach of most pockets. A Lennon watercolour painting can set you back £30,000, and a car he drove in the film Imagine (just an Austin Princess) was finally knocked down to a bidder for £75,000 in 2005. But that pales when compared to the amount paid for Lennon's famous psychedelically-painted Rolls Royce, which went for over a million pounds – in 1985.
Lennon Clothing
Very little Lennon clothing appears on the market, which means that, like everything else associated with him, the prices are high. The suit he wore on the cover of Abbey Road sold for £59,000, a jacket for £16,000, and a pair of jeans he'd worn during the 1970s for £5,500. However, all those were eclipsed by a tunic from the mid 60s, which brought an incredible £100,000. Even a pair of his round glasses sold for £55,000, whilst his silver christening bracelet brought in £27,000
Lennon Instruments
You don't really find Lennon guitars up for sale, but a couple of his pianos have been sold. The one on which he wrote Imagine went for just shy of one and a half million pounds in 2000, to singer George Michael. Another piano, which had been in his New York flat, fetched £140,000.
Handwritten Items
For rich Lennon fans, it's the items in his handwriting that mean the most, which explains why his handwritten lyrics for All You Need Is Love (which he'd left on the studio floor after recording) brought £600,000 at auction. Even such a small item as a signed cheque made £1,900 and an autograph and notes for the Walls and Bridges album took over £4,000. A 1972 written letter from "Johnandyoko" went in a 2006 auction for £12,000. A neatly illustrated notebook from his schooldays reached £126,000 and a log of a 1980 sea cruise £12,000; oddly, these last two items didn't reach their estimated prices, an indication that for some items, prices might have peaked for the moment, although they're virtually certain to rise again.
Autographs can be the cheapest – indeed the only cheap – entry into Lennon memorabilia, but even then you're looking at parting with the best part of £2,000 for an authentic item.
What this all means is that for the average collector, Lennon memorabilia is out of reach, certainly for the desirable artefacts. However, if you could have scraped together £1,800 in 2006, you could have become the owner of Lennon's gold record for Instant Karma – a surprisingly modest price. In other words, careful searching can bring up some unexpected bargains (although bargain might be a relative term). If you decide to bid on an item, however, determine how high you're willing to go and stick to that limit.
You might also like...
If you've got something that Lennon owned...wore...used...or touched...you might be sitting on a small fortune. I've got some of Lennon's clothing...personal items...autographs...handwritten notes...etc. Stuff like this is better then money in the bank!!!
BeatleJim55
- 27-May-14 @ 11:15 PM