Ozzy Osbourne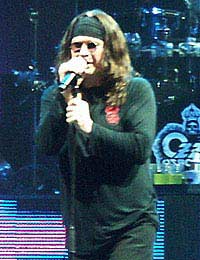 Whether solo or with Black Sabbath (with whom he's enjoyed an on-again off-again relationship over the years), Ozzy Osbourne is one of the legendary metal singers. But he's more than that. Thanks to the television show that spotlighted his family, he, along with his wife, son and daughter, is a full-fledged celebrity, both lauded and spoofed.
Yet although far more people recognise Ozzy than have ever bought one of his albums, it's the music that will be his legacy, and it's the singer that draws collectors. However, in the wake of television success came a flood of merchandise, such as action figures, that have lowered the prices in general Ozzy memorabilia.
As investment material, Ozzy isn't so good. He's too active and too visible; with the big Ozzfest tour every year and numerous TV appearances. As he shows no real signs of slowing down, there's little likelihood of prices rising much over the next few years.
What to Buy
At the lower end of the scale, tour programmes and press packs will cost about £10-20, with the older ones from the 1980s fetching the higher prices, especially those featuring the late guitarist Randy Rhoades, which might go as high as £45. There's no real market for most posters, although those pre-1990 can fetch around £20-25 if in mint condition. Older Black Sabbath posters from the 1970s are a different matter, however; some from the early part of the decade can run as high as £200, again in mint condition. Backstage passes vary in value, but even the less common ones, such as those for Sabbath tours, will only cost around £15.
Autographs can sell from anywhere between £50 and £90, depending on the object and how many signatures (you'll pay more if there's also the signature of an Ozzy guitarist on there, with a huge premium if you have Randy Rhoades).
Tour itinerary books, given to musicians and crew, generally go for £50, and whilst of interest, they're definitely for collectors rather than investors.
Award discs sell for quite low figures for such a major star, usually around £600 for both gold and silver discs.
Ozzy "action figures" were sold for a while, at the height of the Osbournes' television fame, but have since been deleted, making them eminently collectable – but only if undisturbed in their original packaging. Compared to other dolls, they're very reasonably-priced – going from £15-20 – although the value is more kitsch than anything else.
Where to Buy
For Ozzy memorabilia, look to two main sources – dealers and eBay. The dealers will handle the less common items, such as award discs, older posters and autographs, whilst eBay will be a good place to find many other items, especially the mass produced ones, like action figures, which you might even find at a good discount.
What could cause prices of Ozzy memorabilia to rise? At present, there's very little. The biggest factor to affect values would be his death, or his retirement from recording and touring. Barring those things, he's simply been marketed too effectively for there to be any dramatic increase in prices. At the moment, at least, Ozzy remains firmly in the province of the collector.
You might also like...