1980s Instruments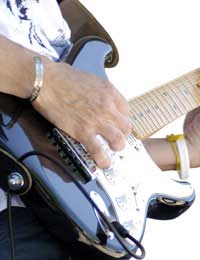 There are many who think the 1980s marked the last hurrah of the guitar as a great rock instrument. But there are just as many rock fans for whom it will never go out of style. It was a decade when metal guitarists like Eddie Van Halen and Steve Vai among others, took on the mantle of guitar gods with a new style of playing.
But the old warriors hadn't faded away. Eric Clapton was as popular as ever – just with a slightly older audience - and along, too, came a new blues star, Stevie Ray Vaughan from Texas, whose star only shone for a few years before his death.
For those interested in finding instruments from the 1980s, though, there's a bit of a problem. You're not going to find that many available. In 2006 Vai auctioned off a DNA guitar on eBay for charity (actually to help with the medical bills of a friend), and it reached £13,000 – a very healthy figure (he also donated an Ibanez to Clapton's 2004 guitar auction, which brought in more than £2,500). In part, however, that was simply because so few of his guitars come on the market. Even Van Halen, who owns literally hundreds of instruments, rarely parts with any, although you might find the occasional one in a Hard Rock Café.
When another guitar great like Joe Satriani auctions off a guitar, it makes the news – he did it in 2004, again for charity, at Clapton's sale, with the instrument going for more than £8,000. In other words, you won't really be seeing any of the instruments from the 80s greats at Christie's soon. Even the guitars of the late Randy Rhoades, who toured with Ozzy, don't come up at auction. The closest you're going to get to any of these idols is with signature model guitars from different manufacturers, such as Jackson. They, along with others like Kramer, were among those favoured by the young breed who were breaking away from the tradition of Fender and Gibson.
What Can You Buy?
If you were a blues fan with a lot of money, at Clapton's auction you could have picked up Stevie Ray Vaughan's main guitar, a Fender Stratocaster, for around £300,000, or a replica of it for a mere £20,000. Mark Knopfler from Dire Straits gave a Schecter that went for £25,000. It wasn't a place for the average buyer.
However, if you want guitars from the period, this is the kind of money you'll have to shell out. So few instruments from the greats come up that the prices tend to be inflated beyond their real worth (and add in the fact that this auction was for Crossroads, the charity Clapton had begun).
What it all means is that, for probably another decade at least, 80s guitars will essentially be as rare as hen's teeth. The demand might be there, but there's simply no supply, and it's unlikely that the heroes will be selling off their arsenal of instruments anytime soon. Most of them are still very active, recording and touring regularly. At least it gives you time to save your money!
The names mentioned above, and probably a few more, will fetch strong prices for their guitars, and it's worth looking ahead, perhaps, to consider which might be the most collectable – and also which might offer the best bargains with the greatest investment potential.
You might also like...