Bruce Springsteen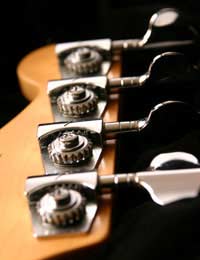 Although he came to stardom in the 1970s with the Born To Run album breaking him into the major leagues as an artist, Springsteen's real glory days came in the 1980s, as Born in the USA made him as a bona fide superstar, justifying the hype of a couple of years earlier when he was called "the future of rock'n'roll."
Since then he's become one of the most respected rock figures in America, a songwriter not only of great depth, but also enquiring breadth, as comfortable leading the legendary E Street Band as playing solo. For someone who started off playing the bars in Asbury Park, New Jersey, success has brought a very wide world indeed.
There are several collections of Springsteen memorabilia, including one, quite fittingly, at the Asbury Park library, and one New York memorabilia dealer claims to have a collection of Springsteen memorabilia that's bigger than any owned by the Boss himself.
What to Buy
As with any star, the real demand is for personal items, be they the famous leather pick guard he used on his guitar in the 1970s (owned now by that New York dealer) or handwritten items, which go for quite healthy amounts at online auction. As an indication, a fragment of what would become the lyrics to Jungleland brought almost £2,700, a 1975 handwritten set list took in £1,000, and a written track listing for his second album fetched £1,650. One avid fan even has Bruce's library card (and application) from his childhood – which is not for sale.
Granted, these aren't sums equivalent to the biggest rock icons, but they are indicative of the fact that Springsteen is a rapidly rising memorabilia star. He's not yet quite worthy of a Christie's auction (although one of his guitars did appear in a sale of Dick Clark memorabilia), but it's only a matter of time. For the moment, prices on items are very reasonable (in relative terms), making this a good time to buy, as they're virtually certain to rise sharply.
There's a demand for autographs, in whatever shape or form. If you want Bruce's signature on a guitar, expect to pay around £1,500, and there are a few floating around for sale. However, one dealer offering an autograph for £3,500 was finding that it wasn't going quickly (Springsteen collectors might be fanatics, but they're also quite realistic). As to autographed albums, in spite of some dealer claims, the region of £200-300 is quite realistic, with signed photos in the £75-100 range, unless there's something unique about them, when the price will, of course, rise.
Very rarely a Springsteen award disc will come on the market, which means demand far outstrips supply, and with the Boss very collectable, you should expect to pay £2,000-3,000 for one.
Tickets and posters are very much the province of the collector, rather than the investor. About the only ones with real worth would be from the early years, and preferably in New Jersey itself. In terms of discs, you should only pay attention to the very rarest, such as the copy of Born to Run with a different, script cover (actually a promotional advance), which fetched £900 at auction.
Where to Buy
For now, the majority of Springsteen memorabilia is sold through dealers or smaller online auction houses. However, there's little doubt that in the next few years he'll graduate to the major auction houses as he becomes an emeritus figure in American music.
For smaller items, which include some autographs, it's worth checking eBay, where you can find some bargains, although, as always, you'll need to verify authenticity.
You might also like...