Collecting Foreign Memorabilia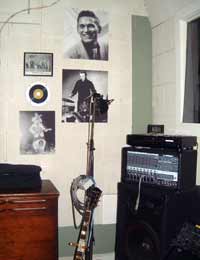 One of the treasure troves for music memorabilia collectors is foreign memorabilia. There can be a wealth of items available, ranging from various record releases, often offering different tracks, to vintage concert posters and ticket stubs.
It's very much a product of the rock and roll era, which began with Elvis, the first international megastar, and snowballed with the Beatles, who took global stardom to a new level.
From Different Eras
Some foreign memorabilia can be quite basic, such as various album pressings. But these can prove interesting as track sequences might be different from US or UK versions, or you might find some tracks have been substituted. The early Beatles albums that were released in the US were vastly different from the British counterparts, for instance, offering completely different tracks and covers - just look at the famed 'Butcher Cover' as a prime example. For many years Japanese versions of albums, whether on LP or CD, have been expensive and collectible for their rare tracks, and releases from Eastern Europe often have big track differences (although vinyl editions will have inferior sound as the quality of vinyl isn't as good).
Even the CD era can offer some surprises when people are completing their collections. The fact that so much music from all artists can be found online tends to mean there are really no such things as tracks that are rare in one country and not another any longer, though.
Buying Magazines
Magazines dedicated to particular artists have mostly fallen from favour in the Internet age, when so much information can be instantly obtained online. For a few decades, however, these magazines were commonplace with the most popular groups, and those published in other countries make excellent collectibles for the hardcore fan. You might not be able to understand the articles, but the pictures will often be ones not available elsewhere. Putting together an entire set of magazines poses an interesting challenge for a determined collector.
Choosing Your Merchandise
With truly global stars, such as the Beatles, different merchandise was licensed and produced in different countries. It can, understandably, be impossible to assemble one of every item. It can be even harder to discover what they all were, as many items would have been unofficially produced. America is always a good place to find this kind of memorabilia, with a vast range of merchandise available, but most developed countries have them too. There is so much available, in fact, that you often need to become discriminating about what you buy and how much you pay.
There's probably been less merchandise produced since the 1990s, at least in terms of the range of products. That makes the task of the collector slightly easier. On the downside, many of the items are of the action figure variety, where the condition makes a huge difference to its collectability and resale. Figures that are in mint, never-opened condition are most in demand and will command higher prices.
The market for foreign memorabilia has been irrevocably altered by the rise of Internet auction sites. These days it's easy to obtain those items, and people have become far more aware of their value. That's bad news for collectors, but good news for those who want to make a profit in the products they've kept around for years, especially merchandise issued in limited editions, which can command hefty prices. It's become a much smaller world and that's proved to be a double-edged sword.
The Future
What we're finding is more memorabilia items released globally, with the possible exception of posters and some items in local languages. There's more homogeneity to things, and also fewer artists that have true global appeal. That means those who want to collect foreign memorabilia have to look backwards. Yet that can be part of the fun of collecting, especially when you discover something new and fun that you didn't even know existed. The era isn't especially important, and if it's something rare, so much the better.
Not all foreign memorabilia will die out, but it might take a little more searching to find it. Yet that can make it more valuable to real collectors. Much of the pleasure is in the hunt and tracking things down. Don't expect to make large profits from foreign memorabilia, however, unless you come across something particularly rare and desirable.
You might also like...