Collecting Old Vinyl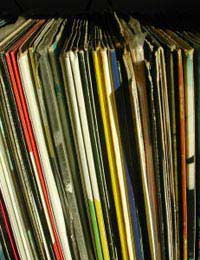 As people of a certain age will recall, before downloads, CDs, and cassettes, there was vinyl. It was the only way to buy music. There were 12 inch long playing records, seven-inch 45s and EPs. Before that came the 10 inch record and the shellac 78 rpm disc.
Vinyl has experienced a resurgence recently, in part because of the warmth it can give to music, and a number of new releases now come on vinyl as well as CD. But the true market for collectors is with old vinyl.
Before You Buy
Before you start buying old vinyl for a collection, ask yourself why you're doing it. Is it to play the music, or is it simply to collect the records? If it's the former, make sure you have a good turntable. Modern turntables have moved on a great deal from the past. The reproduction is a lot clearer, and you're far less likely to scratch the vinyl, which was always a problem in previous decades.
If you're collecting simply to collect, it can be for several reasons. It can be as an investment, since rare old records can prove to be worth a lot of money and only go up in value, because there's only a finite number of any particular release. It could be for the covers, if you collect LPs. The size makes them much more attractive than the smaller CD covers, and some old artwork can be stunning.
With 78 rpm records, some areas are particularly desirable, such as old blues or country music (once referred to as race records and hillbilly records), on labels such as Okeh. These were only released on the US, and most were broken or thrown away. Those that are left often command high prices.
Quality
Many of us have old LPs stuck in the loft. In most instances they were the chart releases of their day, and not worth a great deal. They'll also be scratched, the covers bent – in other words, largely without value to a collector.
If you're collecting vinyl, you want something where both the record itself are in excellent condition, mint or near mint (N or NM in collector-speak). The worse the grading on record and sleeve, the lower the price.
The possible exception to this, in terms of value, is where records were released in small quantities, either quickly withdrawn, or put out in limited quantities on small labels (for the former, look to the first Sex Pistols single on EMI, which was never even officially released, and now commands outrageous prices among collectors).
Stereo And Mono
In the 1960s, most people still owned mono record players, with stereo being for audiophiles. So some records were released in both stereo and mono versions. These had different mixes, often radically different, and often collectors will want both (there are several Beatles LPs available in stereo and mono, for example, as well as the Beach Boys' Pet Sounds LP). You need to know exactly what you're buying before you make a purchase.
Research
There are innumerable price guides for old singles and LPs on the market. Anyone contemplating collecting vinyl should own two or three of them. These will let you know what you should pay for a record, depending on its condition (or what to charge, if you're selling). There are also plenty of dealers, most of them online these days, who specialise in old vinyl. Most have their individual musical areas, and once you begin as a collector, you'll become familiar with them.
Several magazines, both in the UK and the US, are aimed specifically at the collector market. They offer informative articles about different artists, but the real meat is in the small ads. These cover vinyl for sale, often by auction, from dealers and individuals, and can be a prime source for anyone amassing a collection.
Make no mistake, it's going to cost money to put together a vinyl collection, and you'll inevitably focus on one area of music, or even some specific artists. Once you play those old discs, however, you'll understand that the expenditure has been worthwhile.
You might also like...