Should You Collect Reissued Vinyl?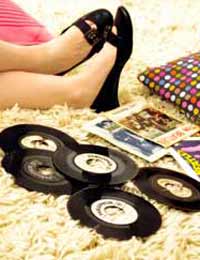 For quite a few years it seemed as if vinyl was dead, going the way of the 78 rpm record and the wax cylinder. But there's been a small resurgence of popularity for vinyl in recent years. It was sparked, at least in part, by dance culture and hip hop, where vinyl has never gone out of fashion, and also by audiophiles, who've found that good vinyl will have a warmer, fuller sound than CDs.
Although there's no likelihood of a full-scale return to vinyl, some new releases do appear with small vinyl editions, and a number of older discs are now reissued on vinyl. They will have been remastered from the originals and are put out on heavy 180 gram vinyl, making them less susceptible to warping or any of the problems once associated with LPs. Newer technology also allows for more accurate tracking and a much better sound. For anyone interested in music memorabilia the question is whether or not they are worth collecting.
Sound Quality
Even when LPs were still the predominant format, there was a small company that specialised in excellent quality pressings of some discs on heavy vinyl. Played side by side with the originals, the difference in sound quality was apparent. The catch was that these deluxe versions were much more expensive and only available in limited quantities. Nor were all releases covered.
Although they seemed like a luxury at the time, these releases have become quite collectible. Their value hasn't risen spectacularly, but they are still enjoyed by audiophiles. That, after all, is the real intent behind all these releases, whether original or reissues; they're meant to be enjoyed by people who want a better sound, and who have the equipment to obtain it, too. Although you might hear some difference with a regular turntable and amplifier, you'll obtain the best results with expensive, high-end gear.
Most of the vinyl reissues are put out in limited runs. That makes sense, as the market for them is quite small. It also has the side effect of making these reissues much more collectible.
What To Collect?
Collecting reissued vinyl isn't much more expensive than buying a CD. The difference, of course, is that you wouldn't want to play it. The vinyl will gain most in value if it stays in mint condition and has never been played. Don't expect to make a fortune on these releases. They will go up in time, but never by great amounts.
It's also important to know which LPs to collect. These days there's a wide range of reissued vinyl, but the beauty with the reissues is that you already know which are the most collectible groups. So you can pick out, for example, the Doors over glam rock, and Bowie over David Essex. The real market is for durable, classic releases where there is a demand, coming from artists whose work has stood the test of time.
In virtually every case there's nothing rare about the material. It's simply a straight, remastered version of an old LP, with the same artwork, and everything almost exactly as it was before.
Long-term Investment
The market for all this reissued vinyl is the slightly older music fan, who has money to spare and wants to hear the best possible sound on his favourite music. It's not a big market segment, by any means. These people will have invested in very good sound systems and will welcome anything that can make the most of them. The LP is also a more nostalgic medium than the CD. In other words, it's the audiophile who will mostly collect these reissued LPs and play them.
That said, they do represent a small, long-term investment for the memorabilia collector, although the profits to be realised will likely be too small to be of real interest. The reissues do tend to be in fairly small quantities, so with the right artists they can prove worthwhile. As a rule of thumb, though, collectors will tend to steer clear of them, leaving them for the fans.
You might also like...