New Music Memorabilia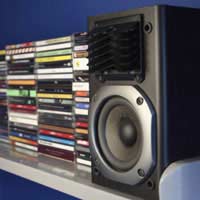 Can it be worthwhile collecting new music memorabilia? Won't it take a long time to really appreciate in value? More than that, how can it be possible to determine which items are worthwhile?
If you pick judiciously then you can make good investments in new music memorabilia that can deliver profits in a fairly short term. What's important is to be familiar with new music and to select the right artists to collect, which can be an art in itself.
What Artists?
With so many artists self-releasing music and other items available through independent companies there's never been more choice for music. Finding the collectible ones from all that isn't easy. There are, however, some criteria that can help.
The biggest success is going to come with an artist that has high critical cachet and a good level of commercial success without being mainstream pop. Radiohead is the perfect example of this. What makes them especially desirable is the fact that they've released albums in different formats, some of them limited editions, making these extremely collectible. There's a large enough fan base to fuel demand that will exceed supply.
That's one strand. The other is to find a small band that's going to achieve success and start collecting their work early. This can be much more hit and miss, of course, but finding a band on an independent label that goes on to bigger things with a major can be at least a little money in the bank. Where the album also comes out on vinyl, especially in a small edition, it's worth buying. Selecting these groups is tricky. You need to read the music press to be aware of who is out there and generating a buzz. Ideally it should be an artist whose music you enjoy – being a fan can be an important part of collecting music memorabilia, too. That way, too, if the artist doesn't go on to bigger and better things you still have the music.
What To Collect
There's a limited range of new music memorabilia that's worth buying. You need to avoid items that are mass-produced, where hundreds of thousands will be available. Instead, go for the items that have some value, such as a CD packaged with a good quality book. It's also worth looking at smaller items, such as individually drawn sleeves for singles and LPs, although this will only be with tiny bands. If they become bigger, though, there will be some money to be made.
You do need to make good choices, and it can be better to buy too little than to adopt a scattershot approach, as most items will see no return. Buying new memorabilia items by established groups that meet the requirements above is the simplest way to end up ahead. That's all well and good, but you also need to stay ahead of the crowd and keep looking to the future and new artists.
Non Music Items
Musicians often have creative lives that extend beyond music. In some cases what they produce can be worth collecting even if there's no direct link to the music. For instance, a number of musicians are also accomplished visual artists with work going up in price. Getting in on the ground floor can be an excellent way to make money. The chances are that it won't be a fortune, but it can still be a handsome return on investment. It's worth keeping track of what musicians are doing and remaining aware of prices. You'll really only be able to do this with groups whose music and activities you follow; it's not feasible with a very wide circle.
When To Sell
Having bought the memorabilia you want to realise a profit from it. To do that it's important to remain very aware of the market with the artists and for the items you have. With limited edition releases the best time to sell can be right after the edition sells out, when demand is at its highest and people are willing to pay to own it.
Other items require a longer-term strategy. To be an investor in music memorabilia requires not only money but also patience.
You might also like...