Rave Memorabilia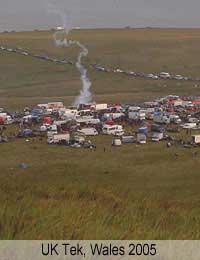 The rave era was crucial in the development of British music. It was a time of dance parties, some legal, and many not. The second summer of love, as it was often termed, in 1988, saw dance music come of age and outgrow its disco tag.
The rave era essentially lasted from 1987-1992, to all intents and purposes beginning on the island of Ibiza, where djs would mix sounds, many of them house music out of Chicago and Detroit to help create long dance parties in clubs. Then people started putting them on in Britain, in old warehouses, fields, anywhere they could find. But where and what is the memorabilia of this era?
What Constitutes Rave Memorabilia?
There's not a great deal in the way of rave memorabilia. You can find posters for some of the big legal parties that were held during the era, as well as small flyers for tinier ones. But the vast majority of the raves that were held were illegal, and so there was nothing in the way of posters or information – everything was by word of mouth, making it very much an under ground movement.
Beyond this, there is the music, which covers a period when dance music underwent some rapid changes, as house music begat techno and other styles. A lot of this came out on vinyl, since that was what the DJs used, so it is quite feasible to collect vinyl from this era. The good news there is that prices are generally very cheap for 12 inch extended mixes.
Rave-era memorabilia is still a very small market, making it good for a young or novice collector who has researched the period. That research is vital, and not always easy. There's little in the way of published histories of the time, so anyone wanting to know more will have to piece things together from articles and memories.
Where To Buy
Since there's not much of a market yet for rave memorabilia, few dealers will carry anything in the way of posters. The best place for obtaining these is from people who attended the vents and kept mementos, or from Internet auction sites, where people might be selling off items from their lofts.
For music, Internet auction sites will be a good starting place, but dealers specialising in vinyl will also have records from the time. Record price guides will cover the period and indicate what's a fair price to pay for a piece. In many instances these items didn't sell in large quantities, and were produced in small amounts. Buying them now, before the price rises, can make a good investment. To experience more of the music, there are a few CD collections of rave tunes. These serve as an introduction for those unfamiliar with the music.
Is It An Investment?
Rave-era memorabilia will never be an investment on the same level as artefacts from rock. The big prices tend to be for memorabilia from styles and artists who were globally popular, and that was something that never happened to rave. Countries had their own scenes, and though there was a little crossover, it was never on a huge scale. The British rave scene had differences from the German, and America arrived later (it was also much smaller there). The people who emerged as big names from rave weren't so much those making the music as those spinning it – the DJs, which inverts the standard phenomenon.
That means a poster for a party featuring an appearance by a DJ who went on to become famous will be worth more than other posters. As an investment, thought, don't expect a high return on an item like this, or from anything to do with the rave era. For the moment, at least, this is an area for those who love the music rather than those looking for profit.
You might also like...