Take That Memorabilia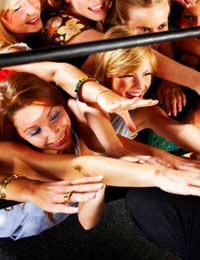 Take That are the rarest of phenomena, a boy band that achieved huge stardom, broke up, and managed to come back from the dead ten years later to take a second bite of the apple and achieve fame a second time around. As well as being the springboard for the incredibly successful solo career of Robbie Williams, the first time out they were by far the biggest of the British boy bands, although they never made an impression in the US.
Formed in 1990, by the time they split in 1996 they'd sold a staggering 25 million records, and two of their CDs ended up among the best-selling releases of the decade in Britain (one, perhaps unsurprisingly, was a Greatest Hits collection).
That means, in essence, there are two kinds of Take That memorabilia, the first covering the initial incarnation of the band, and the second since its reformation, which has been far bigger than anyone could have predicted, with best-selling discs and sell-out tours - Take That have been welcomed back with open arms, and interestingly mostly by those who bought their CDs the first time around.
Take That Mark 1
Time has passed since the original Take That called it a day in 1996, so memorabilia from that era is more expensive, especially because the group contained Robbie Williams at that time, and his popularity remains massive.
What you'll find is that there are quite a number of autographed photos and CDs around (although you should really only buy those from recognised dealers and with a certificate of authenticity to be sure you're getting the real thing).
For photos the average price seems to be around £199, and just £20 more for signed CDs with gold discs. Autographed book covers run a little less.
Merchandised items were very common, to the extent that prices haven't risen as much as a collector might hope. Photo books, annuals, biographies and so on can be found for less than £7. For any serious collector, these aren't items worth any kind of investment, however small it may be.
Something worthwhile, though, are old fan club packs, whether it's pack one or two. Although mass produced for the fan club, at this distance they've become relatively rare enough to have gained in value, although they'll never be true high ticket items.
Perhaps the strangest offering, however, is a collection of Take That guitar plectrums - which are plectrums with different pictures of the group on them, decidedly odd because they were a vocal group, meaning the plectrums are unused!
Take That Mark 2
The majority of items for the re-formed Take That go for fairly modest prices - you can even find autographed set lists for just £60 on eBay, and other autographed items sell for less.
However, a few are offered for more, like an autographed CD for £199 - although notably that hadn't been quickly snapped up.
The truly rare items, like stage costumes, have been sold (a few of them at least) at a charity auction, which means some might reappear at other auctions at some point.
What this does indicate is that the new version of the group, no matter how popular their record sales and concert tickets might be, hasn't yet brought forth any particularly memorabilia.
You might also like...
I have a Take That personalised signed poster with all 5 members on it. Can you advise how much it may be worth please?
Windy
- 31-Mar-22 @ 10:02 PM
I have a German Gold award to Gary Barlow dated Sept 1994 for Take That Everything Changes. Presented by BMG Bideo. In the original frame. Has this any value?
Jane
- 15-Feb-21 @ 2:25 PM
I have a retro t-shirt that all 5 members of Take That personally signed, plus their logo, from one of their first little gigs in 1990 at a roller ramain Hemel Hempstead. Is this worth anything? I had no clue how big they would become but I kept in in a plastic bag!
MG
- 20-Oct-20 @ 11:30 PM
I have a box of Take That memoribilia from the 1990s. 12 inch and 7 inch records, cassettes, posters, items from the fan club and a host of Take That specific magazines. All in excellent condition. I am open to sensible offers for the whole box.
Emzelbrace
- 13-Oct-20 @ 1:54 PM
Hi there! I have a 1992 Cassette of 'Once You've Tasted Love' (b: 'Guess Who Tasted Love') with the original bonus TT stencil. Would that be of any interest? Can provide pics too :)
Robbyn
- 6-Jul-20 @ 8:35 AM
Before I throw them away, Is a 1995 & 1996 calendar of any interest plus a large badge from same time?
mcan15
- 5-Sep-19 @ 6:55 PM
I have a arge collection of Take That Fan mags that my daughter left behind when she moved out 25 years ago. Currently downsizing is there a market for them or do I recycle bin them
UncleBobL
- 19-Jul-19 @ 4:40 AM
I have a signed tshirt, all 5 members from the 1992 tour at Bradford St George's hall. The shirts were signed & thrown off stage, also have the original ticket stub for the gig to go with it Any idea how much this is worth ?
Jo-Jo
- 15-Apr-19 @ 10:39 PM
Hi I have a authenticated signed print from Take Thats Pray video on the beach in immaculate condition.... anyone habe an idea of value please?
Jenjen
- 17-Sep-18 @ 2:17 PM
i have all 5 signatures on their stage lighting plan for a concert i went to at Hammersmith Apollo.i think early 90s.i was also given a pair of their drum sticks from that night.would these sell and what sort of money coild i expect
jan
- 22-Jul-18 @ 8:45 PM
Hi, I've came across an old take that locket necklace in a black pouch and a watch (without the strap) they are both in excellent condition. How much do you think they'd be worth? Thanks
Rach
- 5-Jan-18 @ 10:32 PM
I have five signed picture postcards from 1992, I would like to sell, one of each of the members of take that. They all have just signed their names apart from Mark Owen's which says "love Mark."
Mark
- 23-Apr-17 @ 4:47 PM
I have an unused take that Pray perfume still In the box, been trying to find a price to sell It for online but all I can find Is an empty bottle with a sample for £10. Does anyone know how much this would be worth now? Also have unused Splatch Iron on stickers, unused take that greeting cards pack and the full collection of Topps trading cards In folder, plus other stuff. Anyone have any idea of the worth of these? Thanks.
Tararrah
- 22-Jul-15 @ 7:20 PM
I have a full size take that vinyl picture that was used in the marks and spencer campaign advertwhich I am wanting to sell,
hilly
- 25-Aug-14 @ 6:53 AM
hi ive just found my take that membership pack with all letters and cards from the 1990s could anyone tell me how much they would be worth if anything.
ange
- 5-Apr-12 @ 6:50 PM
Hi,When Take That were first formed, my cousin used to date Gary Barlow. As a result, I have a VHS tape of their first single "Do What You Like". I am not sure whether it is from the studio?? It is in perfect condition, only played a handful of times due to it being in a box in my cupboard since I was given it when Take That were starting to get popular in the 90's. Also, my cousin used to work at Bredbury Hall where TT used to play in the old days. She got me Robbie's autograph saying "To Avil, love from Robbie"
Avril
- 19-Sep-11 @ 3:14 PM