Signed T-shirts and Other Items/Things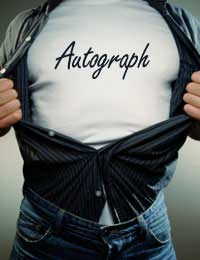 All sorts of things qualify as rock memorabilia, and for collectors, as well as those with items to sell, that's a good thing. Even band t-shirts, ones from tours, can have some value to collectors, although they're not usually going to fetch especially good prices, unless they're very old, since they tend to be produced in such large quantities.
That makes autographed t-shirts even more valuable, especially if those who autographed the shirt are no longer alive. However, going back to the 1960s and 1970s, there were far fewer band and tour shirts sold – merchandising wasn't an industry back in those days.
So how collectible are they? And do you think of the t-shirts as autographs, or clothing, such as jeans or handbags owned by rock stars?
Are Autographed T-Shirts Autographs?
As far as memorabilia goes, autographed t-shirts would be viewed as autographs, and their collectability would be viewed the same way. If, for instance, you have a t-shirt with the signatures of the Beatles or the original Rolling Stones, especially if you have proof of them signing it, such as a photo, then you're sitting on a small goldmine.
But there's the problem, really. Just as with other autographs, they need to be verified, since it's all too easy to fake them, even more on a t-shirt than on paper. Modern autographed shirts often come with a UCC verification from an autograph dealer, but that's not true of older ones, which were gathered by fans.
All too often that means very little in the way of provenance. In turn, that means you're taking a chance if you buy an older autographed t-shirt and it's something you'd be more inclined to do if you're really a hardcore fan.
For collectors it poses thornier issues. If you feel it might be real, and the cost seems expensive, as it could be in some cases, then you might do well to have an expert look at the signature to see if it's authentic. Bear in mind, though, that the circumstances in which the signature was obtained, and the fact that it's on fabric, could make it harder to verify absolutely.
So you need to find out more about how the autographs were obtained, a history if possible. It can't be conclusive, but it can help place everything in context and possibly make everything more believable.
Older t-shirts with signatures are worth more, if they can be reasonably verified, since they're obviously rarer. In recent years t-shirts with autographs have become far more common.
Again, the t-shirts should be considered as autographs. Don't confuse them with the jeans, handbags and other clothing items that are also memorabilia.
What Should You Pay?
T-shirts with autographs will vary in price just as much as other autographs, but some can reach a higher price simply because of the rarer medium. As a general rule, you should offer the same price as you would for a regular autograph by the same artist, and be willing to stretch perhaps 10% higher if pushed.
One thing about a t-shirt with autographs is that it can be professionally framed and make an imposing display on your wall!
You might also like...