Where to Store Memorabilia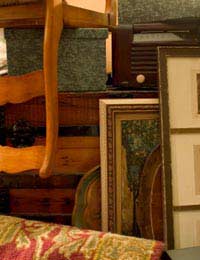 There's a judge in Alaska who's an authority of calypso music. Collecting it, and everything associated with it, is his passion. That in itself might seem unlikely, but it's true. So, too, is the fact that he had to have an extra room built on to his house to store his 17,000 (and more) recordings.
When you amass a memorabilia collection, finding ways to store it can become quite difficult, and sometimes expensive.
Spare Room
If you have a spare room in the house it can be an ideal location for a memorabilia collection. It gives ample room to display the choice items and to keep the remained together in one place where they can easily be taken out and perused.
The problem is that the room often can't be used for anything else. That's fine as long as you're not expecting company to stay or don't need to room for any other purpose. But it can provoke some family disagreements, especially when the room becomes full of memorabilia.
Attic
If the attic has been finished and isn't being used for any other purpose, then making it over into a place to keep memorabilia should give no problem. Of course it's necessary to make sure the room is watertight and weathertight, and that the temperature won't go too low, which can damage some delicate items.
The drawback to an attic is that it's isolated. When you're spending time with your memorabilia collection you're far more removed from the family than you would be in a spare room; it's akin to the electric train set up in the attic. It might be fun for you, but not for anyone else in the family.
Living Room
If you have a very small collection of memorabilia, then storing it in the living room is a possibility. But you'll need to keep the pieces out of the way, where they can't be trodden on or damaged, and well out of the reach of children. It can be a good place to display some special artwork, however, or even an instrument that has been used by a favourite artist.
Outside Storage
Renting a storage unit for a memorabilia collection really isn't a good solution. It's not readily accessible and you have no control over the security. Items could disappear and you'd only know when you visited the facility and checked. There might also be a liability limit on what the storage unit will pay in the event of a burglary.
A garden shed (or even using the garage) is a possibility. As it's not in the house it's not as secure, so definitely not advisable for valuable items, since you have no way of protecting them. Although it gives a private space for your collection, the drawbacks are much the same as using the attic. You'll also need to spend money to make it weatherproof.
Adding A Room
Adding a room to your house to house your memorabilia collection is an extreme and expensive answer to the problem of where to keep everything. It's really only applicable when the collection grows and grows, which won't apply to many collections.
There's also the small matter of money. A room extension costs a great deal. But if you can afford that then you can afford to freely indulge your hobby of collecting memorabilia.
You might also like...