Insurance for Memorabilia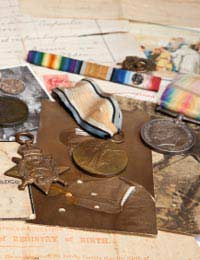 Collecting memorabilia can make for a wonderful hobby. It can also be an expensive one. Not only do you have to consider the amount you paid for items but also how they might increase in value after you've purchased them.
But what happens in the event of a burglary or a house fire? If all the items you've spent so long collecting and which have taken so much of your money are gone, how do you recoup the loss?
Insurance
In the case of small collections, the items will be covered under the contents insurance for your house or flat. You will need to declare them in the losses, of course, along with their value.
Be aware that there might well be clauses in your insurance regarding collections, especially valuable ones. Anyone with a memorabilia collection needs to sit down with the insurance company to determine how to insure it properly. This is especially true when there's an extensive collection. In those circumstances the insurance company might demand special measures for security and well as to cut down on the possibility of fire.
Valuation
The first step in insuring a collection is to determine its worth. With a collection of any real size that will involve a valuation. There are people and companies that specialise in making these valuations, many of them associated with auction houses.
They'll be able to give an accurate figure, and their impartiality and stature will be accepted by the insurance companies. The valuation should be not only the value of the items but also how much it would cost to replace them, which isn't always the same thing.
The latter figure is vital if you intend to replace your collection; you need to be insured for that amount to be certain you don't end up out of pocket. There will be an excess on the amount, but you can keep that low, although it will increase the amount you pay for insurance.
Keep Costs Low
There are steps you can take to please the insurance company and help keeps your rates low. Good security is the biggest aid. You should fit your house with a burglar alarm, preferably one that's monitored by a service.
Make sure that there are motion sensors as part of the alarm, rather than just sensors on windows and doors. If you also have pressure pads on the floor, that's a bonus. To protect from fire, there should be ample extinguishers, with a sprinkler system even better.
The majority of the memorabilia collection should be kept locked away, in a room employing good locks and with a strong door. The rate for insurance will also be dependent on where you live; some areas are more prone to crime than others, and rates will reflect that.
Expensive Items
Items of great value will require their own insurance, and special conditions are almost certain to be imposed. These might well include having the item somewhere secure, such as in a box at a bank.
Failure to meet the conditions can mean your insurance won't pay in the event of a problem. Don't assume that simply having insurance is enough. You really need to be aware of the conditions attached to it and exactly what's covered.
You might also like...