1970s Tickets and Passes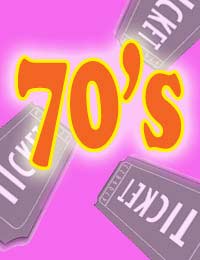 To the uninitiated, it might seem hard to credit but there's a very healthy memorabilia trade in concert tickets, especially unused ones, and backstage passes. In some ways it's part of the demand for posters, although tickets don't come close in price.
The passes confer a closeness, a sense of the elite, on the holder – he's with the band and privileged. Possession of passes can make a collector seem like part of the few – or they could simply make for a pleasant display.
The good thing, certainly for ticket collectors, is that there's no shortage. People tend to hold on to tickets from special concerts for years before finally getting rid of them. They cover the entire spectrum, both musically and geographically, and in many cases can be picked up fairly cheaply.
Backstage passes, by their very nature, are rarer, and those for big artists can be quite desirable to collectors, although the prices are still far from sky high.
Tickets
Tickets for some artists are rarer than others, just as those for some artists are more desirable. A ticket for a 1973 Rolling Stones concert, for instance, will set you back around £75, for a 1970s Pink Floyd show around £50, and a Dylan ticket from 1978 a surprisingly low £25. With unused tickets, expect to pay more, up to double for more famous shows. These are prices from dealers, though, who expect to make a profit, meaning you can often find similar items more cheaply on eBay.
In fact, eBay is probably the best source for most tickets. They may not always be the best-preserved items, but acquiring a collection – whether of a specific artist or in general – can be accomplished quite easily and without a great outlay.
If you wonder why they're so cheap, consider this: for each arena event, thousands of tickets are printed. That makes them the most common form of memorabilia. If only five per cent of attendees keep their tickets, that's still a fair number, and since scarcity boosts price, old tickets will stay low. The other big factor is desirability – fewer collectors are bothered about tickets, so the demand simply doesn't exist.
Backstage Passes
It was only in the 1970s that passes really began to be used, which means that you're not going to find too many of them. The good news, though, is that they're surprisingly inexpensive. Even a Led Zeppelin guest pass from 1975 is only £30, and that isn't as expensive as a pass for a 1979 Boston tour, which is £5 dearer.
Some bands, of course, are more collectable than others. You'll have to spend more for passes by artists like the Stones, and even the Eagles (one from their 1979 tour, the last before they split up, goes for about £40, for instance).
You'll find more passes offered by dealers, although eBay can provide some items – it's certainly worth checking particular artist listings on a regular basis.
Investments
Quite bluntly, tickets and passes might make excellent collectables, but they're not great investments. They're too much at the low end of the price range to experience huge leaps in value.
That said, if you're collecting items relating to a single artist or band, they can make excellent additions, and a good way of adding more items for very little outlay. There are even those who collect only tickets and passes, which at least have the advantage of taking up very little space.
You might also like...
@Benny. Sorry we cannot give individual valuations but maybe one of our readers would be able to help.
MemorabiliaRocks
- 3-Dec-14 @ 11:07 AM
Hello, I was trying to find out the selling value of an unused concert ticket in excellent shape that I have from The Who concert in 1979 that took place in Cincinnati Ohio.Would you possibly know what the value of this ticket might be? thank you very much for your time
Benny
- 29-Nov-14 @ 7:27 PM