David Bowie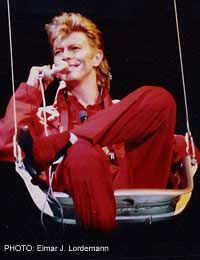 Ziggy Stardust, the Thin White Duke…over a career that's already lasted more than four decades, David Bowie has put on and cast off personalities like suits of clothes. If not always the biggest-selling artist, he's one of the most respected rock stars in the world. In the past he hasn't so much been ahead of the curve in trends as the person creating them, with his biggest days in the 1970s and early 1980s.
He's also been one of rock's most astute businessmen, making himself many millions by clever, sometimes innovative investments and strategies. Bowie has also been canny about the amount of personal memorabilia that he's let out onto the market – next to nothing. That means you have to search around to find things, and rarely will they have any direct association with the man himself (which are the most desirable items, of course).
There are a number of diehard Bowie fans who've been building up collections of memorabilia for years, happy to swap or buy – but never sell. But even they don't have the person, precious items, a sure indication that you're just not going to find them out there.
What to Buy
The great thing about David Bowie is that, like a visual artist, his career is defined by periods. There are the early days, from the beginnings as David Jones (his real name) up to the early 1970s, then Ziggy, Aladdin Sane, the Thin White Duke, Berlin, and so on. You can specialise in collecting artefacts from one period, or try to span the entire career.
Most people go for the time up to 1983, when Bowie was at his most famous, selling out arenas around the globe. Posters from the first half of the 1970s are likely to cost you up to £200, and they're not too easy to find, with concert handbills and postcards a little cheaper.
One dealer has a selection of "fine art prints," which are basically concert photos, although you should be aware that they're more memorabilia by association than true memorabilia. Much better value are the promotional packs record companies send out to journalists and radio stations with advances of a record. Depending on the album, they can run £15-50 (the earlier the better – a dealer was offering just the photo from a 1969 pack for £50). One exception would be the press pack for the film Merry Christmas, Mr. Lawrence, which featured Bowie; if you find a copy of it, expect to pay around £100. Concert programmes are among the cheap end of memorabilia, going from around £10-30 for Bowie tours.
If you can find a tour itinerary, expect to pay a bit more. These are issued to musicians and crew at the beginning of a tour so they know where they're expected to be and when. The chances are that you'll only find these for more recent tours, at a cost of £75-100.
Gold and platinum records for Bowie are rare, and not just because his days of big-selling albums are well behind him! Depending on the record and the award, you're looking at spending from £400-750, which is actually quite a fair price, given the small availability. However, the dealer that was selling the RIAA platinum disc for Never Let Me Down had lowered his price to £750 from £1,000, indicating that the market in Bowie memorabilia probably isn't as strong as he'd hoped.
Where to Buy
Next to nothing comes up with the big, or even the smaller, auction houses. At times he will donate items for charity auctions – a piece of his artwork, or even a pair of boots (they sold for £1,300). That said, you can sometimes find Bowie memorabilia on eBay, such as a signed, limited edition print of the Ziggy Stardust cover, whose starting bid was £750.
The best place to look for Bowie material is the dealers, and few of them carry items. If you can find good items – the gold and platinum albums or the rare posters, for instance – then there will be an appreciation in value. However, it's unlikely that Bowie memorabilia will rocket in worth very quickly.
You might also like...