1970s Merchandise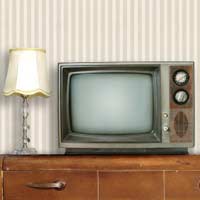 In the 1960s merchandising was largely all about the Beatles who sold items like hotcakes, mostly in the U.S. In the following decade, merchandise was the province of the teen idols, like the Osmonds and David Cassidy, who initially came to fame in the Partridge Family before becoming a star in his own right.
"I sold a half billion dollars in licensed merchandise in the '70s that's probably worth $10 billion now," Cassidy said in a 2004 interview. "I got $5,000 from that because production companies and studios owned my likeness."
Merchandise, especially vintage merchandise, is still big business. Cassidy sold off some of his memorabilia in 2006, and the items included some merchandise. The prices were perhaps inflated because they were his possessions, but still offer an indication as to the value of merchandise. A Partridge Family lunchbox brought £300 and a "mini guitar" (read: toy guitar) £450. Even a jigsaw puzzle took in more than £200. David Cassidy annuals and pop annuals can be found for anywhere from £5-15, but good vintage merchandise is actually difficult to come across these days
The Osmonds
The Osmonds were merchandised just as much, if not more, than David Cassidy. You could buy not only the usual toy guitar, but also a Donny and Marie microphone and amplifier, even a Donny and Marie record player. Then, of course, there were puppets and dolls, games, cameras, frisbees, even Halloween costumes! The good news, for anyone interested in assembling a collection, is that eBay can prove to be a good source. There's not a huge amount of vintage merchandise, but what comes up tends to sell quite cheaply. The only downside is that the sellers are mostly in America, which will drive up your postage costs.
Bay City Rollers
Of course, Britain had its own teen idols during the 1970s, and Scotland's Bay City Rollers drew the biggest teenybop audiences. Naturally, they were very heavily merchandised. However, it was a little different from the American merchandising. Yes, you could buy a Rollers lampshade (an original, still in its packaging, will cost you £30), tartan scarves, badges, a jigsaw (currently £24.00), as well as the obligatory annuals and books – but the merchandising was nowhere near as extensive as in the States.
Once more, you can find some of these items quite easily from dealers, but assembling a larger collection will take time and effort (probably a lot of it spent on eBay). Although some people have revised opinions on the musical worth of the Rollers in recent years, and there are still a number of avid fans who'll happily spend plenty of money on their memorabilia, it's not a great investment if you're hoping to make money by reselling.
T. Rex
Given their status as the biggest teen band at the beginning of the 1970s, you might expect there to have been plenty of T. Rex merchandise. Perhaps surprisingly, there's not. With a lot of hunting, and a great deal of luck, you might find scarves or a tee shirt, but no dolls, lunchboxes, or the like; it's as if merchandising passed them by. It probably did, because even in the wake of the Beatles, the merchandising industry simply hadn't developed in Britain.
You might also like...