How do You Know it's Real?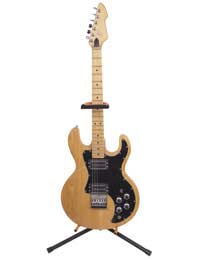 As with any area of antiques, knowing that an item of rock memorabilia is authentic is vital, whether you're buying or selling. Obviously, with many of the things offered for sale it won't be an issue – no one's going to bother faking a magazine or (in most cases) a tour programme. But once you get into the more upmarket items, then fakery can become temptingly profitable.
Printed Matter
Knowing it can happen is the first step to making sure you're not a victim of a fake (or a reproduction passed off as the real thing). However, it's not always easy to know. Posters, in particular, have been reproduced quite legitimately - Rockmusicmemorabia.com specialise in limited edition reproduction festival posters, retailing, from around £6-£9, with a proper certificate - but that won't stop the unscrupulous trying to pass something modern off as original.
The first thing is to examine for signs of age. Unless the old posters have been incredibly carefully kept, there'll be discolouration to the paper, for instance. If they don't, you ought to begin to wonder – after all, who would have kept these things pristine for so many years? But even that isn't infallible. Counterfeiters in New Orleans used old paper to reproduce some posters; they were only caught because they stupidly included information that hadn't been on the original.
It's worth remembering that going back to the 1960s, concert posters were printed in very limited numbers. Some, such as one advertising a Grateful Dead concert in San Francisco, go for over £2,000 if in near mint condition. But in this instance there was a second run of the posters, and someone later tried to pass them off as original by cutting off the line saying "second printing" (the second printing only had about 1/10th the value).
Much the same applies to tee shirts, by the way. Older tee shirts should probably show sings of wear (cracking to the logo, underarm stains, evidence of washing).
Awards
Before you start collecting awards like gold and platinum discs, you should educate yourself about their history. There's an evolution to them from the "white mattes" of the 1960s all the way through to today's holograms. Adept counterfeiters can put together a new award from the parts of others, and often do it very well. Before you buy, have it authenticated by an expert.
Autographs
Autographs are one of the trickiest areas of memorabilia. Given the prices some can command (especially, say, a photo of the Beatles signed by all four members), it's no wonder fakes abound, and signatures can be so easy to fake. In the 1960s and 1970s, in particular, fan club staff often used to sign for the artists, and you need to watch out for these so-called "accidental" fakes as much as the deliberate ones.
About the only way to be sure is to take the item to an expert. But even he'll tell you that it's not always easy to be certain – a lot will depend on where the autograph was signed, for instance, and under what circumstances.
Instruments and Celebrity Items
This is an area rife with fakes. Without real provenance, how can you know if Paul McCartney really once wore that collarless Beatle suit that's being offered for sale, or if Jimmy Page played that Epiphone 12-string? Here's where you really need to know your stuff. In terms of clothing, be aware of size – both of the item and the person who supposedly wore it. With instruments, make sure you know very well what makes of instruments an artist played. Remember, too, that instruments, even drumsticks, signed by a celebrity are just autographs unless the celebrity actually used them (in terms of instruments, often very expensive autographs).
Yes, you might get scammed; many collectors have been on one thing or another. But ultimately, the best way to know if something is real or not is to do your research. If you're not sure, consult an expert (especially on high-end items). Finally, if you're not sure, it's better to keep your money in your wallet.
You might also like...