What is Rock Memorabilia?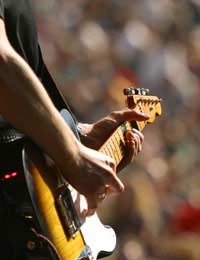 You might well have read in newspapers and magazines about the tremendous sometimes outrageous, prices being paid for rock'n'roll memorabilia. It's a rapidly growing field, one that offers opportunities for profit and investment, as well as the chance to own a little bit of history associated with musical heroes.
In many ways it's a specialised field of antiques, one that only began some 30 years ago – after all, rock'n'roll was only born in the 1950s – but it's just since the 1990s that it's truly taken off, with prices spiralling as the interest has grown, with baby boomers (the main group spending money on this) using their disposable income to become collectors, or looking to make canny investments for the future.
What Qualifies?
It's a wonderfully broad field; anything from that signed Status Quo LP in your loft, to old concert tickets, to cars once owned by the stars, is rock memorabilia. Autographs, presentation records, clothing worn by a rocker - they all fall under the broad title. Maybe you were lucky enough to get a piece of a guitar smashed by Jimi Hendrix or Pete Townsend – if so (and you can prove it belonged to them), it could be worth money.
As a general rule of thumb, if it has anything to do with rock, it qualifies. Old music papers and magazines, music books, tour posters and programmes, written set lists, and on occasion rare records are all grist to the mill. With the big names even merchandise, (including toys), can command some very interesting prices.
Of course, not everything is going to fetch a magnificent fee. By all means take a look through those old piles of what seems like junk, but don't go planning a rich retirement yet. That's reserved for the truly rare items, like handwritten Beatles lyrics, John Lennon's car or guitars owned by people like Eric Clapton or Jerry Garcia. For instance, if you ever find the Gibson Flying V guitar Hendrix was known to once own (and, again, if you can prove it was his), then you can pretty much name your price.
How Big a Market Is It?
In a word, massive. John Lennon's written lyrics to All You Need Is Love went for £500,000 pounds, just a little more than one of Clapton's guitar fetched at auction. An Elvis Presley 45 record on the Sun label brought over £8,500. Lennon's psychedelic-painted Rolls Royce took in a cool £1.7 million when it was auctioned. If you want a complete set of Beatles autographs, you'd better be prepared to shell out in the region of £4,000. Even a set of Sex Pistols autographs from the time Sid Vicious was part of the band will set you back in the region of £500.
It's a market where the prices seem to keep going up. But before you go and start sinking your life savings into memorabilia, remember that nothing's guaranteed. Yes, that rare tape of the Rolling Stones rehearsing is only going to go up in value and go some way to helping you live in the manner to which you want to be accustomed, but something like that is the exception, not the rule – and finding it at a low price would be the kind of luck that might strike once in a lifetime. Do your research before you start buying, and don't just hope the prices will rise. And whether you're buying or selling, consult one of the memorabilia price guides now on the market.
Reproduction Memorabilia
Believe it or not, reproductions have become an important market in themselves. Old concert and festival posters can fetch quite stunning prices (one for the Beatles' famous concert at Shea Stadium, New York, brought £65,000). Obviously there's a very limited supply of the real things, and the demand for a little bit of history is high, so you can find reproduction posters for many big events – important concerts, historic festivals.
The same is true with tee shirts, those things you bought to commemorate a tour or a festival, or even just because it had your favourite artist on the front. They're collectible these days, and a number of businesses churn out replicas of old ones. So, if you see one for sale, make sure you establish whether it's a modern fake or the real thing before you spend over the odds for it.
You might also like...