How to Buy it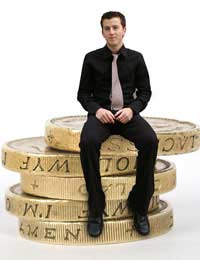 So you want to buy some rock memorabilia? Maybe it's as an investment hoping you can sell it in the future at a profit. Or maybe it's just to collect something associated with one of your favourite bands. The first thing you need to decide is why you're doing it, what area you want to specialise in – or who you want to specialise in.
Once you've established that (and it's important if you're looking at it seriously), consider how just much you have to spend. Give yourself a budget and make sure you don't go beyond it – be firm about it! That signed Ozzy Osbourne gold disc might seem like a steal, but you still have to pay the mortgage.
You can still find some bargains, but these days you'll have to look hard. Most companies selling memorabilia are only too aware of values, and they have to make a profit. People bidding on Internet auctions are all looking for that elusive steal. Your best bet is to pick a band that had some popularity but broke up quite a while ago. There's no guarantee you'll make your fortune, but as the market expands, there's a better than average chance you'll turn a small profit.
Or you might decide to collect a particular thing - posters, for instance. If you can find older, rare ones – especially those with good art or advertising 1960s concerts by popular groups – you could do quite well in future. Believe it or not, there's also a fairly lucrative market in old music magazines, so maybe buying those ancient copies of Melody Maker or NME (or even early editions of Mojo!) could prove to be a good investment (and entertaining reading). Best of all, you won't break the bank assembling a collection.
Places To Buy
If you're looking at the very high-ticket, rare items, then you should go directly to the big auction houses. These days they all hold fairly regular auctions of memorabilia. But if you're among the vast majority who don't have thousands to spare, there are plenty of alternatives.
There are plenty of smaller auctions of memorabilia for you, usually with much lower prices, although the quality won't be as high. You can find them listed in magazines like Record Collector or Goldmine (a US publication). Although some are in person, most are by mail, or you can bid online.
In virtually every case, the people selling are professional dealers. That's both good and bad. It means you're not going to hit any stunning bargains, but at the same time they have reputations to maintain, so their goods will, in all likelihood, be authentic if they want to stay in business (don't be afraid to make enquiries!).
Dealers in rock memorabilia abound, whether it's Wolfgang's Vault selling off the collection of the legendary Bill Graham or someone who's amassed a small number of items and is selling it off, either online or in a shop. Always take the time to establish whether they're reputable. A flashy web site means nothing; check with other customers and dealers before parting with your money. On any item that supposedly belonged to a particular star, the dealer should be willing to show provenance. If they can't – and it won't always be possible – don't buy the item; re-selling it later will be very, very difficult.
EBay is another big source of memorabilia – there are literally pages and pages of it – but again, you have to be careful. If you want magazines or tour programmes, it can be excellent, and you can still find some real bargains there if you're willing to take some time. However, by the nature of eBay, be extremely careful buying anything that could be faked. It's always a case of buyer beware, even with the company's safeguards.
Buying Safely
Never take anything on trust! If someone says a plectrum once belonged to George Harrison, or that Oasis's Noel Gallagher once used that amp, obtain proof before you hand over your money.
Certainly when you're start out, the easiest and safest course is to stick to things that can be verified. Even that autograph can easily be faked. As you become more familiar with the world of rock memorabilia – and it is a world unto itself at times – you can become more adventurous.
You might also like...