Clothing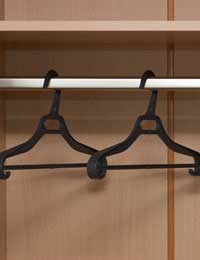 The biggest problem you're going to encounter if you try to collect 1950s rock memorabilia is the fact that there's very little of it about. That's especially true of clothing from the period. It's hard enough to find proper vintage clothing from the '50s let alone anything associated with a rock star.
Why is There so Little?
The simple, short answer is fashion. If you were a rocker, you wanted to be fashionable, and there was a limit to storage space for clothes in the smaller houses of the period, no matter whether they were in Britain or America.
Additionally, no star seriously imagined that anyone would ever want these clothes, let alone that they'd pay serious money to own a garment once worn by a musician. When he was finished with the clothes they were either given to others or simply thrown away as new ones were bought. Even a January 2007 Johnny Cash auction only included one item of '50s clothing, a pair of trousers.
Elvis
Elvis Presley was the biggest star of the 1950s, but outside his home, Graceland (which is now a Presley shrine and museum), or a few institutions, you're not likely to find any of his very old clothing. However, at least until his induction into the U.S. Army in 1958, he bought (or was given) his clothing at Lansky Brothers in his hometown of Memphis. With the Elvis revival in 2002, Lansky Brothers began introducing reproductions of the clothing Elvis wore. It won't have belonged to the King, but at least it would be something you could wear.
Rockabilly
Although many people imagine early rock'n'rollers wore leather jackets, that's really not the case. That was more in films like The Wild Ones. The rockers might have dressed in loud clothing, brightly coloured, but everything remained fairly conventional in design, with suit jackets, shirts and trousers for stage shows, and jeans for relaxation with tee shirts (although jeans arrived later in the U.K.). British rock fans in the 1950s adopted the Teddy Boy style with longer, draped jackets and thick soled shoes called brothel creepers – but once again, that wasn't how the performers dressed; they tended to be far more conservative, to appeal to a wider audience. Most often, their clothes were off the peg and indistinguishable from that worn by many other young men.
For females, it was the poodle skirt, or the tight skirt, usually below the knees, often with a blouse (look at the pictures of the early girl groups, for example).
In other words, there was very little "rockabilly" fashion in the 1950s; that's simply rewritten history.
Reproductions
There have been reproductions of 1950s clothing since the 1970s, although, unlike the Lansky Brothers, little of it has been related to specific stars. But with some looking and shopping around, you can acquire 50s reproductions at reasonable prices.
Back then, no one really believed rock'n'roll was here to stay. Everyone thought it would burn out quickly, just another fad, so there was no incentive for anyone to think in the long term, least of all about someone fifty years on collecting anything and everything. Even if you're offered something purporting to have come from a star, be very way – the chances of it being authentic are somewhere between slim and none.
You might also like...