Are Music Magazines Classed as Memorabilia?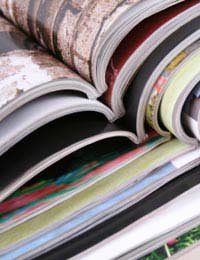 Music magazines and music papers aren't a new phenomenon. They've been around for decades. Until the middle of the 1960s, however, there were few of them, until the so-called underground press emerged, documenting the type of music that didn't necessarily have mass appeal.
In the wake of punk the fanzines arrived, homemade and seeking a much smaller audience. Most weren't even sold in shops, but outside venues to a faithful few.
Following on, the 1990s saw the rise of the glossy monthly music magazine, with quality paper and photographs, written by excellent journalists, most of whom had made their reputations working on other magazines and music papers. Music had become big business, even for writers.
But do all these things qualify as music memorabilia?
Writing As Memorabilia
Copies of old papers like Melody Maker from the 1950s and 1960s are certainly historical artefacts. So, for instance, is an early edition of Rolling Stone, Creem, or even Oz. They all have value in their own right, and are all definitely collectable.
What transforms them into music memorabilia is the subject matter. The focus of most of them was music, and even where it wasn't the primary focus, it still made up a lot of the content. For someone collecting material on a certain group, such as the Jefferson Airplane, then coverage from the 1960s in a music paper is something they'd want in their collection.
But something strange has happened with music magazines of a more recent vintage, such as Q or Mojo. Although not exactly old, collections of them, especially complete collections dating back to the first issue, can sell for far more than face value. In other words, they've become memorabilia themselves.
Why Collect Music Magazines?
Much of the reason people want to amass collections of the glossy magazines is because they appeal to music fans who are older and more affluent. They offer concise guides to what's available, to the news, and features of artists likely to appeal to older fans. Having a collection of these magazines is another way of stating that you're a music fan.
As memorabilia goes, it's also a relatively cheap way of collecting something, and being able to add to that collection month by month as new issues appear. Given the way prices for magazine collection have increased over the last five years, they also stand as a good investment. Not enough to make a person rich, but certainly to warrant buying, adding to, and reselling in another four to five years (by which time older issues will be much scarcer).
The true vintage material, of which full sets are extremely rare, tend to command higher prices only when they deal with important stars. A big Beatles interview in Melody Maker, for example, would have a much greater value than Freddie and the Dreamers.
Fanzines still only command fairly small prices because the quality of the writing and the reproduction. They tend to appeal to the obsessive rather than the memorabilia collector, and as such the value is lower.
You might also like...