Jimi Hendrix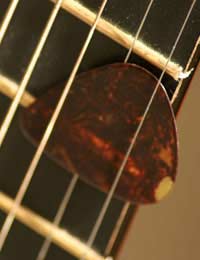 Next to the Beatles Jimi Hendrix is the most collectable of the 1960s rock stars. That's due in part to his untimely early death in 1970, but more because of his status as one of the greatest – many would argue the greatest – rock guitarists, exploring and using the instrument in a way no one else had before.
From the smallest upwards, Hendrix artifacts are worth a lot of money. Even a plectrum he used at the Monterey Pop Festival in 1967 – with a certificate of authenticity – brought over £2600 at auction – for a plectrum! That gives you an idea of what you're up against. As to a genuine Hendrix-played guitar, you'd be competing against people like Paul Allen, who's already paid well over £100,000 for one.
What To Buy
Anything, from a concert poster or ticket upwards is the short answer, as long as it's authentic. However, the simple fact is that you're unlikely to find any real bargains. Any Hendrix memorabilia that comes up at all is likely to be at auction, although dealers do have some pieces.
Photographs might be the easiest entry into Hendrix memorabilia. They usually come in sets, ranging from £75 to £250 depending on the quality. Many won't have been published before.
Concert posters are other good entry points. It depends on the rarity, of course, but you can pick one up for as little as £60, whilst a 1969 concert programme can run up to £250. A very rare poster can cost you around £2000, but one thing is certain, even the cheap ones will never diminish in value.
From there prices shoot up. One dealer had a yearbook from Hendrix's Seattle high school on sale for £1750 – which is actually a reasonable price. Had it been Hendrix's own copy, he would have been asking several times that figure.
Autographs are hugely desirable, and quite rare. A complete set of the Jimi Hendrix Experience signatures will go at auction for £1200-1500, and a really rare set can skyrocket from there – one went for over £5000, which even eclipses most Beatles autographs.
Where To Buy
As a rule of thumb, distrust anything on EBay that purports to be authentic. If it truly was authentic, it would be sold through a dealer or auction house. That's not to absolutely eliminate the possibility, but it's extremely unlikely, and you'd do well to be very sure before bidding and buying.
Auction houses acquire the most items, although after all this time there's a very small supply of fresh material. Collectors will re-sell, of course. With dealers, you're often looking at items that wouldn't do well at auction – a tiny swatch of a Hendrix scarf in a presentation frame for £100, for instance – but it sold.
Apart from the low end, Hendrix memorabilia is outside the range of the average collector. However, it might well be worth looking at the cheaper items, as their value is very likely to continue rising, and could represent a good investment, although your return probably won't be spectacular (most low end items in anything are more for collectors than investors).
You might also like...