Bob Marley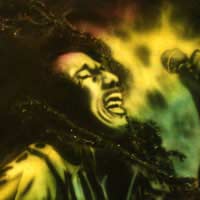 Long after his death in 1981 Bob Marley remains the biggest musical star ever to come out of Jamaica. He took the sound of reggae worldwide, and became an iconic figure to millions all over the globe with his moving, often political lyrics standing up for the underclass.
He was reggae's superstar, and even today his records sell well. His superstar status is confirmed, which should mean there's a brisk trade in Marley memorabilia. There is, but it's not in the real thing. Instead, posters of Marley photographs, flags, bandanas and so on are the norm. There's very little true Marley memorabilia available.
That begs the question – why? Most items are either with the Bob Marley Foundation, some displayed in Jamaica, or in private collections, such as the one owned by American-based reggae expert Roger Steffens. What remains is quite jealously guarded. Another factor is that Marley didn't make his home in any centre of the music business, preferring to stay in more isolated Jamaica. Because of that, most Marley artefacts remained there, away from the clutches of dealers and collectors.
What to Buy
If you can afford it, buy whatever you can find, since it'll soar in value. If you need an example, in 2006 Christie's auction house sold a notebook belong to Neville Garrick, who'd been Marley's art director. It contained set lists and lyrics written by both Garrick and Marley. It was expected to reach £15,000, but the winning bidder actually paid £36,000, an indication of the rarity of decent Marley memorabilia.
A dealer has offered autographed Marley LP covers for sale – but the price is only available on application, which means they won't be cheap. Marley autographs are few and far between, and those that come up tend to sell in the low thousands (it's Marley who's of real interest, rather than other members of the Wailers).
Posters and tickets would also bring good prices, but again, few make it onto the market. Find some in good condition and you stand to earn yourself a good profit.
Other Reggae Memorabilia
Reggae has its stars, but few of them are widely known outside the genre, which means there's no real market for memorabilia. It's hard to find, and what does exist (such as the mixing desk once owned by Lee Perry and King Tubby) has been snapped up by museums. Even the pre-release white label discs have been bought by collectors who have little intention of selling.
Posters are very collectable, especially for Jamaican and British shows, and you might well be able to find some at specialist reggae record shops. However, at present they have little value in the resale market. It would, however, be worth trying to amass a collection of reggae artefacts if you can find them cheaply enough and are willing to hold onto them for several years, because the market will eventually appreciate.
For the present, it's a market for collectors, not investors, with Marley as the sole exception. However, the astute might want to begin searching out artefacts by such reggae stars as Burning Spear or Lee Perry, or items related to the Studio One label. They enjoy an exalted status within reggae, and are more known in the mainstream. These are more likely to rise in value than others.
You might also like...
Hello Chris, i designed the poster for the first bob marley gig in manchester '73 (adm 35p !) they had done 2 (?) in london, then manchester & the next day they set off for leeds & it snowed, bob thought this a mesage from ja & the rest of tour was cancelled ! it was to promote catch a fire. it's a bit larger than a A2 & i am certain its the only one 'cos i fly posted them. i'm 59 now & need the cash any suggestions ? Thanks Dave
ok dave
- 24-Aug-12 @ 10:34 PM
I have an Authentic Bob Marley Exodus Gold Disc. Out of five hundred made ming is number 104. I have all nassesary Authentic documentation with it. I would like to know how much it is worth or where is the best pace to auction it. It is in mint condition. Exodus was voted the best album in twenty years. Who has thr other 499 of these fantastic gold discs and where are they. Mine is up for offers. Please contact me on my e-mail with any information of where to auction it or on offers.Thank you all. Reggaearob.
reggaerob
- 22-Jun-12 @ 7:06 PM