Eric Clapton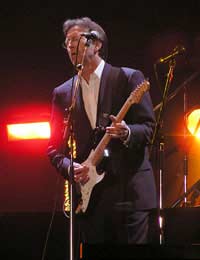 Talk about guitarists and one name crops up near the top of every list – Eric Clapton. Coming to prominence first with John Mayall in the 1960s, Slowhand – as he was affectionately known – had a natural feel for the blues. But he was also an incredible rock player, as he showed with Cream and then Blind Faith before launching his lengthy, successful solo career, which has featured such highlights as Layla and Wonderful Tonight.
These days Clapton is among the elite of rock, a revered figure whose memorabilia is eminently collectable, especially the higher-end items.
Guitars
Given his status, what Clapton fans would love most is a guitar their idol has owned and played. He's held a pair of auctions of his instruments, where they were sold to benefit his Crossroads charity. However, the kind of prices they generated put them out of the range of most collectors – even the cheapest instrument brought £12,000, with the highest (Blackie, his longtime stage guitar) going for almost half a million pounds, and setting a record for a guitar at auction.
That's some serious money, and helped raised millions for Crossroads. But what Clapton memorabilia can the average person afford?
The closest thing to a Clapton owned guitar for most people might be a Clapton signed guitar, offered by a dealer for £1,500. To be fair, it's not even a proper Fender, but for the hardcore fan, it's still the great man's autograph on a most desirable item. Or, if you could have afforded to splurge, a Fender signed by both Clapton and blues legend B.B. King went for £4,000 at auction.
Autographs
If your budget won't run to an autographed guitar, you can still get Clapton's signature on other items. A signed picture will set you back almost £300 from one dealer and £75 from another (which probably indicates why the first item hasn't sold). You can even get a signed LP for a little over £175 or an autographed concert programme for around the same price.
Other Items
Beyond tickets and passes (which tend to sell for £15-30 and £20, respectively), or, if you're lucky, a plectrum, there isn't a great deal of Clapton memorabilia. As a musician, rather than pop star, there's no demand for his clothing, for instance – and none offered, either – or for other personal items.
Where to Buy
Although you might find the low-price items like tickets and passes on eBay, Clapton memorabilia generally divides between auction houses and dealers. The big auction houses handle the guitars, where the serious money is, whilst dealers (and some small auctioneers) go for the remainder of the items. But the overwhelming fact is that there isn't a great deal of memorabilia. Those who have autographs are usually collectors and fans who have no wish to part with them, and obviously, anyone who buys a guitar will hold on to it for a while.
It would be no surprise, though, if some of those guitars made their way back onto the market in a few years and realised a profit, although whether the ones that sold for the highest prices (another, a Gibson 335, sold for £400,000) could really go higher would be interesting to see, and indicative of how much the memorabilia market is increasing.
You might also like...