Madonna Memorabilia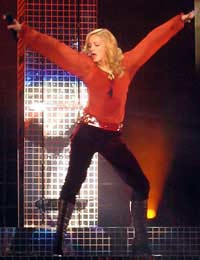 Madonna is one of the great pop icons; a woman who's influenced fashion, re-invented herself any number of times, been incredibly successful as a singer for more than two decades, whilst also having careers as a movie star and writer.
She inspired a generation of girls who grew up in the 1980s, by being in charge of her own career, very astute at marketing herself, courting controversy, and rarely out of the press. Although very firmly American, she's become a European by residence, a wife and mother, known affectionately to the British press as Madge. Above all, she's become a brand, globally known by just the one name.
Her status as a veteran pop legend has made her very collectable, and for collectors that's excellent news, since there's plenty of Madonna memorabilia, large and small, available.
What to Buy
Of course, personal items are the best, but also the most expensive. She's given a number of clothing items to charity auctions, like the screen costume that was sold on eBay or the conical bra from the Blonde Ambition tour that fetched over £14,000 – a surprisingly high price (it was only expected to reach £3,000). In late 2006, her bustier from the Open Your Heart video sold for £5,500 at an auction of memorabilia owned by American disc jockey Dick Clark.
She's also given signed copies of her books for other auctions, which, although they don't bring prices that are quite so high, still do well, and have a strong resale value – although be warned that you won't realise a huge profit on them.
Since marketing has always been important in Madonna's success, you should also consider purchasing rarer promotional items, such as the hot pink cowboy hat issued to promote the Music album (£125). Promotional stamps for GVH are a snip at £35, although the accompanying toiletries are far more expensive and rarer.
Signed contracts will run you anywhere from £250-400, and expect to pay the same for a used cheque or Madonna's equity card.
Even her books and items connected to them have some worth, with foreign editions of her book, Sex, going from £75-100, depending on the country. A promotional chest for one of her children's books was being offered by one dealer for £135, slightly less than a signed photo of her to promote the book Erotica. At £40, a movie cel might be fun for a fan, but it's largely worthless as an investment.
Madonna as Investment
She's the Material Girl, but for now you'd be best advised to look for the higher-priced Madonna items if you're looking for an investment. Best of all are the obviously iconic things, like that conical bra or bustier, both very recognisable and sought-after.
With smaller items, you'd better be prepared to wait several years to realise any significant profit, and even that's far from guaranteed. The mid-priced items, especially signed contracts or personal items, show some of the best potential for increasing in price whilst still being quite affordable.
The biggest problem with seeing Madonna memorabilia as an investment is that fact that, at least on the lower levels, there's just so much of it about. Concert posters and tickets have little real value, for example, and even autographs won't realise that much without some special significance.
You might also like...