1990s Discs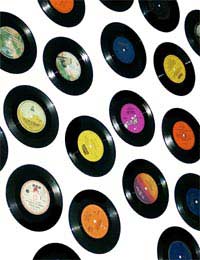 By the 1990s with CDs replacing vinyl, the music industry was very happy. Everything was selling like hot cakes and they were enjoying a golden age. So too, were the artists, who were moving plenty of back catalogue items (with people upgrading their collections to CD) as well as new material, making royalties – and earning themselves even more award discs.
The RIAA discs remained the hologram style as it has been since the late 1980s, with an "R" design to the logo and a black matte and black frame. The much rarer RIAA custom awards can offer different designs, but will always be marked RIAA, so make sure you check this. BPI awards will have a Union Jack in the top left hand corner and be on a red matte.
As to awards from other countries, there are so many different designs that it's impossible to cover them all. However, if you're considering buying or bidding for one, do your research first to make sure it's the real thing. Illustrations aren't difficult to find online.
In-house awards are a very different kettle of fish. They're not official, simply sales awards presented by the record company to the artist and to sales staff. These are relatively easy to find through dealers, and sometimes on eBay.
What to Buy
The rock bands will be the best option, such as U2, Stone Roses, Nirvana, Oasis, Blur and so on. These are the ones most likely to increase in value over the years, and certainly be in the most demand. What you'll find is that, for the most part they're in a fairly similar price range, going up to about £700 for the top awards.
That makes them still a very reasonable deal, given the expectation of future increased values, although there will always be awards for some albums from an artist's catalogue that are more desirable than others. Make sure you're familiar with the work beforehand, and know which are the important discs – there's no point bidding on something you'll have trouble re-selling if you're looking at this as an investment.
The in-house awards tend to be much cheaper, in the region of £200-300. But are they that much of a bargain? They're certainly not as desirable, and don't have the same status. Be wary about going for these, since they're unlikely to offer excellent future returns.
The big pop artists have all sold millions of records, and received many, many awards. That makes them easier to find, although the prices are currently around the same as for the rock bands. But will they experience similar increases to bands in the future. The best educated guess is no. Pop stars appeal to fans rather than to the ages and the serious collectors. If you want something to decorate your wall, that's fine, but they probably don't make the best investment.
Where to Buy
It's still worth checking eBay, since items do come up very occasionally. However, there might well be a lot of bidding. A safer bet is to look at dealers, who get their hands on items very regularly. You'll pay a bit more, but the items should come with provenance, making re-selling much easier.
You might also like...