1990s Instruments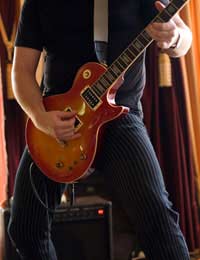 A collectable instrument becomes even more collectable when it was once owned by a famous musician. The price can soar very high indeed. It's something that's been demonstrated time and again with instruments – especially guitars – once owned and played by the famous from the 1960s and 1970s, which can go for hundreds of thousands of pounds.
It's a phenomenon that's still rare for instruments from the 1990s. In large part that's because the players haven't got rid of them yet. They still use their guitars regularly and want to hold on to them. The biggest exception is the Mosrite that had belong to the late Kurt Cobain, and which brought over £65,000 at auction. He might be a special case, an icon who's no longer around, but it's indicative of the fact that the demand is there; it's simply the supply that's missing.
What to Buy
In this case it's not so much a case of what you should buy, but rather what's available, and the pickings are scarce. That Cobain guitar will shoot up in value, but so would any instrument from REM, U2, Oasis, Pearl Jam, or several of the other major rock bands of the period. That doesn't mean they'll reach the stratospheric heights of Clapton's guitars, however. Although players like Peter Buck of REM or U2's The Edge are highly regarded, they're not lead guitarists in the traditional mould; they don't inspire in quite the same way. During the 1990s the guitar became, throughout music, less important as an instrument. Programming, keyboards and voice came generally to the fore. Yet the idea of the guitar as emblematic of rock just won't go away.
So, if you get a chance to buy an instrument from one of the main players and you have the money, go for it. It's as certain as anything in life that you'll make money when you re-sell it, and though the prices might be in the low tens of thousands, it'll represent an excellent investment.
What Not to Buy
Don't spend your money on an instrument from a minor artist – unless you're simply looking for something to play yourself, of course. If you're offered an instrument that supposedly belonged to one of the major artists, make sure that can be proven in some way, with a provenance or a certificate of authenticity. Without that proof, it has no real worth beyond the value of the instrument itself when you come to re-sell. The better the provenance, the better the price, generally speaking.
Where to Buy
That's as complicated a question as what to buy. If instruments were to come up, they'd almost certainly be with one of the biggest auction houses. However, you might also, in time, find some instruments from dealers, from collectable but not top-level artists. Whether they'll be worth the money remains to be seen, but the prices should be much lower than the premier league. How much they'll gain in value is a moot point, although a lesson can be learned by looking back and seeing how much, say, a guitar belonging to a member of the Hollies is worth compared to a Beatles guitar. You may consider it not worth the expense.
You might also like...