Britney Spears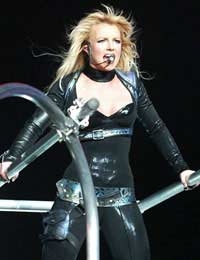 Britney Spears shot from nowhere to become one of the biggest pop idols of the 1990s, notching up an impressive string of hit singles and albums. Although recent rumours about her personal life have had reporters speculating about a breakdown, she still fascinates the tabloids – and her fans.
However, as she's still so young, even if she's led a fairly full life, what can there be in the way of memorabilia? More to the point, is it worth collecting, and can it be an investment?
Of course, Spears memorabilia is definitely worth collecting if you're a big fan. As to its investment potential, that's a loaded question. A lot depends on how long she continues to interest the public, and whether she can continue a musical career over the long term. If she can manage that, then memorabilia might prove worthwhile as an investment. But even then, it's impossible to forecast just how much prices might rise.
What to Buy
It's not difficult to find autographed pictures, on eBay (some with certificates of authenticity) and dealers. Prices vary greatly, going from £10 all the way to £200 for a framed and matted montage item.
You could have owned her high school report if you'd been willing to spend £900, and for the truly desperate, there are plenty of eBay opportunities to bid on gum she'd chewed, at prices going up to £7,000. Quite how anyone could prove it had been hers, however, was altogether a different matter. Notably, there were no bids.
One place that's collecting Britney items is Goldenplace.com, an Internet gaming site, which has purchased a very esoteric range of goods. They've bought her home pregnancy test, a half-empty bottle of water that she discarded at the hospital after giving birth to her son, and even the dummy used by both Spears and her sister when they were babies. They topped it off by spending £1,250 for an invitation to Spears' second wedding, which took place in 2004.
In 2007, Britney Spears gained the attention of the worldwide media once again by shaving her hair off at a salon in West LA. The salon in question set up a website, auctioning off the star's hair for more than $1 million (£512,500).
Where to Buy
eBay remains the main source for Britney items. The more unusual things are generally offered privately, and without good connections you're unlikely to hear about them. To date, not many dealers handle Britney memorabilia, although one does have some items, ranging from in-house award discs (with a top price of £125, still very modest) to clothing from a photo shoot for £450, with various other clothing items going from £120-180. Notably, however, they were not being eagerly snapped up, and nor were the tour programmes on offer going like hotcakes. Perhaps the strangest Britney item they offered, however, was her autographed Mouseketeer hat, donated to a 1999 competition then sold, and being touted at a mere £650!
All this indicates that there's not a huge demand yet for Spears memorabilia. Even the collectors seem unwilling to spend anything more than modest amounts. Certainly the investors are keeping well away. The jury's still out on Britney.
You might also like...