1990s Merchandise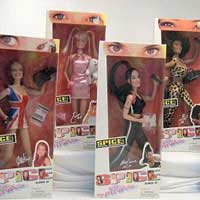 You might not have been able to find the wide range of merchandise for 90s stars that had been available in the 1960s and 1970s, but it was still available. Fan clubs still existed with exclusive items and for the big pop stars; you can find a range of stuff. However, the majority of "official" merchandise is sold at concerts – often a full range of items with tee shirts at the core, although a lot really falls in the impulse purchase category.
The collectability is nowhere near as great as for vintage items, however. There's one simple reason for this: older goods aren't around in the quantities of newer items, and so their prices tend to be much higher, especially for bands like the Beatles.
Another factor is whether there's really a demand among collectors for modern merchandise, and for now, the answer is very firmly no. It's possible that in 20-30 years prices will rise considerably, but that's a long way off, and for now, no one except fans is buying the merchandise.
What's Available
The idea of dolls has never gone out of style. Never mind the fact that, in many cases, they look nothing like their subject, they were mass-produced, and often sold like the proverbial hotcakes. An excellent example is the Britney Spears doll. Introduced in 1999 and discontinued in 2002, the resemblance was passing (Spears herself demanded some changes). Several styles of Britney doll were sold, including a singing doll and porcelain dolls. It set sales records for a doll based on a person and heralded a new series of teen idol dolls.
Somewhat more collectable are the Spice Girls dolls, especially the Girl Power set, which appeared in 1997, with a playset like a sound stage. Discontinued in 2000, they sold very well, but prices have risen a little since.
Take That dolls were very popular, too, although nowadays it's really only the Robbie Williams doll that creates any interest, and that's relatively minor (in part, perhaps, because it looks nothing like him).
There were rumours of a Mariah Carey doll, to be produced in a limited number (just 3,000). However, they don't seem to have actually been produced.
Quite honestly, the dolls, especially those that have been discontinued, probably have more value to toy collectors than those who acquire music memorabilia; there's plenty of money in the vintage toy market. However, that could skew their value to anyone interested in memorabilia as an investment.
If you just have to buy, make sure the items are unopened in their original packaging – that's the only way they'll have any value at all to collectors.
Of course, there are many other merchandise items, from tee shirts to key rings. For the most part, however, they have very little, if any, resale value. You're not likely to find items like the lunchboxes and record players that had been the staples of merchandise for previous generations.
What Do You Do?
Unless you're a fan of the artists involved, the best advice is to steer clear of 90s merchandise. There are no items likely to reach wonderful price levels in the next few years.
You're probably better concentrating on earlier decades for the present, unless you're willing to look very much in the long term, in which case you can now buy the best merchandise at rock-bottom prices.
You might also like...