Mariah Carey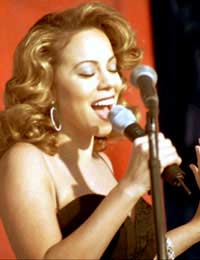 One of the great modern divas and a woman who could end up with more American number one hits than the Beatles, Mariah Carey burst out of the blocks and onto the charts at the beginning of the 1990s. She's endured minor setbacks since, but always bounced back, better than before, a woman whose career has continued to grow.
There's no doubt she's made herself plenty of money, having secured some excellent record deals and sold millions of discs worldwide.
She's no stranger to memorabilia herself, having spent £300,000 on a piano that once belonged to the late film star, Marilyn Monroe (Carey has pledged to leave it to a museum in her will). But how collectable is Carey's own memorabilia?
What to Buy
Probably the strangest item of Mariah memorabilia you're likely to encounter is one that was auctioned off for charity for Valentine's Day 2007. It was a sixteen feet tall replica of her legs, which went for over £1,000 – actually a very low figure (but then again, where would you keep them?).
Somewhat more conventionally, a dress she'd worn also went at a charity auction, a designer gown that brought £500. If you want to quite literally step into Mariah's shoes, a dealer has three pairs, all worn on stage, for £800 each, all with designer labels, of course.
Over the course of her career, Carey has received literally hundreds of awards, so it's no surprise that some of them end up on sale. In-house sales awards go for around £400, whilst RIAA sales awards can bring up to £850 – just slightly above the average for awards discs for this era.
If you're looking for autographs, be very aware of what you're buying. Some will have pictures with a pre-printed signature, and if you don't read the description carefully, you can be spending money on something that's essentially valueless. That said, you can find some good items, with a few going quite cheaply. One autographed picture, with a COA (certificate of authenticity) sold for a mere £20 on eBay, although autographed CDs fetched a great deal more, in the £100 range.
You can also find an entire range of promotional items put out in limited quantities by the record company to go with different CD releases. There's everything from make up bags to glitter cubes, with prices ranging anywhere from £40 to £100. These are fine for the obsessive Mariah collector (and there are more of those than you might imagine), but beyond that, there's probably no market for them.
There are even reportedly Mariah Carey dolls. A very limited edition of 3,000 was set to be issued at the end of 2005. However, with none on the resale market, it might all have been rumour – but if you find one, it could prove to be worth a pretty penny.
Where to Buy
With the exception of some charity auctions (Carey is a big supporter of the Fresh Air Fund, and has auctioned off items to raise money for them), Mariah has yet to make it to the big auctions, like Christie's. Instead, you'll find items being sold by dealers, with the lower-priced goods on eBay.
You might also like...