eBay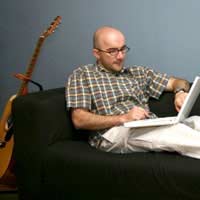 For anyone wanting to begin collecting rock memorabilia, eBay is a good place to start – as long as you realise that you're very unlikely to find a great rarity at a knockdown price there.
EBay, and other Internet auction sites, are ideal for those interested in collecting the periphery of rock memorabilia, the newspapers and magazines, tour programmes and posters (at least the more common ones). However, you always need to be careful to sort the wheat from the chaff.
Buying On eBay
EBay is like every other auction – if you want something, you have to be prepared to outbid other people for it. The good thing, perhaps, is that in most cases, the prices aren't likely to reach the crazy levels of in-person auctions. But, as always, give yourself a budget and stick to it.
You can start by checking "rock memorabilia," but you'll have much better luck going more directly to what you seek, whether it's a group (when you've reached the pages, try clicking collectable on the side to narrow it all down), or a specific product, like Melody Maker or Mojo magazine (the early numbers of which can fetch some relatively handsome prices).
As with anything else, the best course is to do your research first. Take your time and monitor the auctions, to discover how much items generally go for. After that, you're ready to make your bids.
Novice eBayers should know that there's often a flurry of bids just before the auction ends. You might feel secure, but it's advisable to bid as high as you're willing to go (you'll only have to pay the higher price if the bidding increases that far). Inevitably you'll miss out on some items – it's the nature of the game – but you'll learn quickly
As always, it's a case of caveat emptor, or buyer beware, when buying from someone through eBay. In most cases, everything's fine. But before you bid, check the seller's feedback; it's a rating by those who've bought from him and lets you know how reliable he is.
Check the pages every day for new items. You'll find some offered with a "Buy It Now" price that eliminates the bidding process. Whether you want to pay that higher price, of course, is up to you.
Almost invariably you'll have to pay shipping costs, too, and if the item is abroad and bulky, that can add a fair bit to the price. Take time to factor that in, too. But with time and care, if you're looking to acquire modest items, you can amass a very decent collection.
Selling On eBay
Know the worth of whatever you're selling. If it's, say, £50, then put a reasonable reserve on it – it's a lot better than risking it vanishing for a tenner. Never sell yourself short.
Remember that you have to pay to list on eBay, as you would with any auction house, and they receive their cut of the final price. So it's not all profit.
The good thing about eBay sales is that you receive payment before you ship the item. Unless you're selling something valuable, it's unlikely you'll be a victim of a scam, but it pays to be aware of them.
If you have a collection of magazines and music papers, for instance, or even the old bubblegum Beatles cards that appeared in the 1960s, you can make a tidy profit on them with eBay. It won't make you rich, but if you're clearing out the attic or garage, then don't be afraid to use it – it's cheap and easy.
You might also like...